International Society for Krishna Consciousness - Founder-Acharya: His Divine Grace A.C. Bhaktivedanta Swami Prabhupada
Inspiration
ACKNOWLEDGEMENTS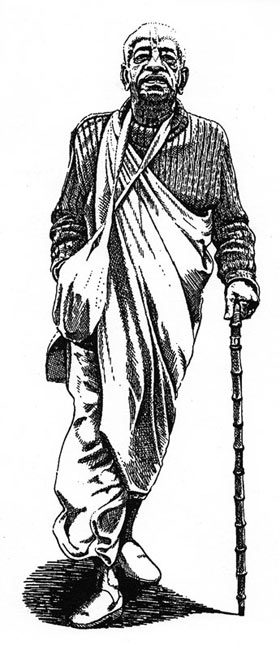 A big "Thank You!" to all those who helped make this manual possible:
ALL PADAYATRA LEADERS AND PARTICIPANTS, especially those who shared  their experience and realizations:  H.H.Jayadvaita Swami, Jaya Vijaya das, Ekanath das, Parasuram das, Saunaka das and Krishna Vilasini dasi, Ekacakragram das, Rajarama das, Indulekha dasi, Shyam Priya dasi, Shyama dasi and many other padayatris.

H.H.Bhaktimarga Swami, for letting us use his 2003 sannyasi report and pages from his canwalk website.

H.H.Mukunda Maharaja for giving permission to use various  articles and information from "ISKCON Communications Briefings" and his manual, "Communication for preachers."

Parasuram das for his manual on how to train oxen and sharing his realizations and adventures.

ARTISTS:  Yasodadulal das, Atmanivedana das, Paramatma das and all the other artists, known or unknown. Special thanks to Shyam Priya dasi for the drawings of her first Padayatra colouring book and Bhaktin Aleksandra for her beautiful portrait of H.H.Gaur Govinda Maharaja and her invaluable help in doing the last minute drawings and improvements.

EDITING :  Aditya dasi,  a very expert and efficient editor, and Rohini dasi for her last minute help.

Anuttama das and ISKCON COMMUNICATIONS for the official statements on ISKCON.

Saunaka Rishi das and Lal Krishna das (IC RESOURCE CENTER) for letting us use excerpts from ISKCON  Communications Journal 'ISKCON in Relation to People of Faith in God' by Saunaka Rishi das and 'Preserving Prabhupada's Legacy' by Ranjit das.

Nagaraj das and BTG for  BTG article and  illustration.

Balabhadra das and ISCOWP for the pages of his website.

BBT Copyrights for the cover photo taken by Yamaraja das.

Ranjit das for his excellent article and letter on preserving archives.

Torchlight Publishing for drawings  of the coloring book, "Padayatra Adventure."

Friends of Peace Pilgrim for the pages of their website.

Madhavananda das for the Padayatra lecture given by H.H.Gaur Govinda Swami  and letting us use his portrait.

Nrsimhananda das for promoting Padayatra with the "Padayatra Worldwide" video.

Mahatma das for making his book on preaching,  "The Flow of Mercy", available on email.

Calcutta Gaudiya Math for the map of India showing  the places visited by Sri Caitanya Mahaprabhu.

VARIOUS DEVOTEES who provided  warm hospitality and  power supply during the winter weeks in Vrindavan. (Kriti dasi and  Manjari dasi), assistance with typing (Sangita dasi) and delicious prasadam (Priya dasi).
Foreword
Lokanath Swami
Padayatra is forever! During  the past 25 years, ISKCON devotees have seen  that nothing can stop it. We want it to go on for many more years, centuries and even millennia,  so we need  new  avenues to facilitate and promote this exciting  transcendental walking festival. This is the goal of this publication.  We are now pleased to present the revised, updated, expanded and more comprehensive edition of the Padayatra manual. This manual can help not only Padayatra leaders, but ISKCON preachers and managers in general, as they are dealing regularly with many aspects of Padayatra presented herein – preaching, communication, organization, book and prasadam distribution, harinam, fund-raising, interfaith, etc.
In our latest ISKCON ministers' meetings, it was decided that  each Ministry should teach a course and produce some corresponding  material or manual along with it. Even though we don't have to teach anybody how to walk, chant or dance, certain preparations and training are required to get Padayatra on the road to obtain the best results. This manual will be used during the Padayatra course, and, like the course,  a third of it  will be inspirational, and the other two thirds practical.  Once the devotees are inspired and enthusiastic about Padayatra, they will get to learn how to organize and manage it, and learn a few useful practical skills along the way.
Behind  the grand success and powerful impact of Padayatra  Worldwide is the original padayatri,  Sri Caitanya Mahaprabhu Himself,  who inaugurated Padayatra five hundred years ago, chanting and dancing for six consecutive years, traversing the length and breath of the Indian subcontinent.  In more recent years, Srila Prabhupada  became  the founder of this programme, for it is our great founder-acarya who thought of this innovative preaching tool to fulfill the Lord's  prediction of bringing the holy name to every town and village.  Prabhupada himself went on Padayatra with his first disciple while he was preaching in Jhansi, and in the seventies he instructed us to organize Padayatra. Just before departing from this mortal world,  he expressed his last desire to his disciples, to go on bullock cart Padayatra. The desires of the great acaryas are a lesson in themselves, they carry a  deep meaning for their followers to gravely ponder over, long after they are no more physically with us.
In 1984 we organized  Padayatra on a grand scale to celebrate the 500th anniversary of the appearance of Sri Caitanya Mahaprabhu, and walked for 7,000 kms from Dvaraka to Mayapur in 18 months.  The immediate success of this walk, the impact on the public, the receptions, everything  was beyond all expectations, and it became obvious that we had to carry on with Padayatra.  Sri Caitanya Mahaprabhu gave us the realization that we should not stop in Mayapur in 1986, so we decided to continue until 1996, the year of Srila Prabhupada's centennial, and adopt this theme for the next ten years. When we were on the road, right  after the  500th anniversary walk, I met with His Holiness Hridayananda Maharaja. As he was inquiring about the future of Padayatra, I mentioned that we would continue walking until 1996. I was thinking that he would be very much impressed that Padayatra would continue that long, but on the contrary he expressed a great surprise that we would do Padayatra only till 1996. "Why not for the next 9,500 years?", he replied in a challenging way, which really made me revise my mental patterns. I realized that he was tuned in to Srila Prabhupada way of thinking – big thinking – and that he was pointing to the correct vision. This Padayatra program is indeed meant to spread and grow for the next 9,500 years. Only then  will the millions of carts all over the world mentioned by  Srila Prabhupada become  possible.  Soon after, Padayatra was taken to the West, at first hesitantly, but once again, the instant success of this preaching endeavour  inspired many more devotees to organise walks in different parts of the world.  One walk  lead to another, we simply could not resist the temptation to continue, due to  Padayatra's authenticity, simplicity and potency.
I want to thank all the team and the artists who participated in the production of this manual. My heartfelt thanks to  Gaurangi dasi for the tremendous effort she put into compiling this manual. During the Centennial years she had compiled a much simpler version, and she recently took the task of revising it and expanding it very enthusiastically, to my great satisfaction. I only provided some inspiration and information.
Dear readers of this manual, if you want to start a Padayatra, or if you have any questions or suggestions, please do get in touch with us or contact seasoned padayatris in various parts of the world.  Padayatra is forever! Sri Krishna Caitanya Mahaprabhu's Sankirtana Padayatra ki jaya!
Introduction
Gaurangi dasi
It is my great pleasure to present this revised version of the Padayatra manual and to be part of the global endeavour to spread the chanting of the holy names  in this dark age of Kali  in  order to  assist the mission of Sri Caitanya Mahaprabhu.
Quite a  privilege indeed! I've been connected with Padayatra Worldwide since 1989 when Sri Sri Nitai Gaurasundara arrived in California for the West Coast walk. Since that day I have been  thrilled to promote and assist the program of  my Guru Maharaja  in any way I could  –  by raising funds,   designing  promotional materials, writing articles and the script for the padayatra video, taking photos, making displays, etc.  After  California I  participated in the East Coast walk, then went to Europe from Newcastle to New Mayapur, in  France. In 1992 Lokanath Maharaja recruited me at the Padayatra Worldwide Office in Delhi.  During the Centennial years he asked me to compile a manual to help reach the goal of 100 countries, and  he recently requested me to update and revise it.
As  Maharaja mentioned in his foreword, this manual is not only for Padayatra leaders.  It is meant to inspire all kinds of devotees, from the top of the spiritual or managerial ladder to the rank and file bhaktas, all those interested in pushing on the mission of Srila Prabhupada and Lord Caitanya.  After all, Padayatra is a travelling temple, so temple managers, preachers, sankirtana leaders, book distributors, communicators, all kinds of leaders, followers and innovators  can learn something or get fresh ideas from the  25 years experience of the numerous devotees who  participated in ISKCON's most complete preaching program. There is definitively something for them in this manual.
Devotees have to learn how to depend on the Lord in any situation, especially on the road, but this does not minimize the value of planning, organization and management, which is confirmed by  one of our staunchest ISKCON padayatris, His Holiness Jayadvaita Swami, who was one of the managers of  Padayatra India at the peak of its glories.  In the March 1986 issue of the Padayatra Newsletter, Jayadvaita Maharaja wrote a  complete report of  the 18 months walk celebrating the  500th Anniversary of Sri Caitanya Mahaprabhu. There were wonderful  results:  hundreds of devotees from     different nations, gorgeous Deities, several teams of  beautiful oxen, one camel and    one  elephant, attractive  exhibits and dioramas, huge and numerous festivals, amazing  positive media coverage, massive book and prasadam distribution,  and unforgettable receptions.  The good results were obvious to all. However, in the same issue, Maharaja also offered a very detailed critical review, which doubled in size the list of all their  accomplishments.  He very honestly and humbly admitted , "We blew it. Not just once or twice but every day, for nineteen months. The Padayatra has been both a triumph and a tragedy. The triumph is how much we accomplished, the tragedy how much we fell short. We made big mistakes, lost great opportunities, fumbled when we should have been sure. We've already taken a proud look back at what we were able to do. Now we look back again, to consider what we should have done better."
That's what this revised and expanded version of the Padayatra manual is all about, learning from  the experience of  others and copying success. This manual  contains some information which may sound  obvious to some, but will be food for thought for others. The devotees who walked through Ireland in 1990 wished they would have measured the Deity cart before engaging it under a low tunnel. They did not, and the cart got stuck and damaged. It is these  small details that  make a difference in the end.  Once on the road, the padayatris might really regret  having overlooked something. For example they  might feel very bad  to not even  have  a small pamphlet to give to the thousands of people they meet every day, as not everyone wants to buy our books or can afford them.  It is undoubtedly a tough  challenge to design and print a  pamphlet for  mass distribution while moving  around.  If the communists  have made   such good propaganda  with cheap  giveaway   tracts diffusing rubbish atheistic propaganda, why  should the  followers of   Caitanya Mahaprabhu not use the  same method  to spread the most  sublime  message of love  of God? Padayatra devotees  move quickly through towns and villages,  leaving lots of people  wondering who  were these strange and bright faces and what was this   unusual  procession all  about. These lost souls need pamphlets telling  them   about Srila Prabhupada,   Lord Caitanya and the  benefits of chanting Hare Krishna.  In my youth I found the motto of the girl scouts practical enough, "Always be ready!". Why not  apply it to Padayatra and preaching the message of Lord Caitanya?
Devotees, always be ready
To give out lots of mercy!
You don't know when this entity
Will get some  drop of ecstasy
Bestowed by the Lord so freely,
Brought by the padayatris.
Planning is much necessary
To fulfill the greatest prophecy.
If we blow it, what a pity!
Nitai Gaurasundara ki!
Jaya!
Srila Prabhupada ki !
Jaya!
1) THE  TRADITION OF PADAYATRAS AND PILGRIMAGES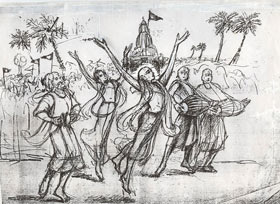 In India, going on pilgrimage to places where the Supreme Lord  performed His pastimes and where His great devotees lived and engaged in His service is even more popular than sightseeing in the West. Every year hundred of millions of Indians journey  by plane, train, bus, auto, ox cart and on foot to ancient temples and holy cities.  The sanskrit word "padayatra" literally means "walking festival" and it refers to any extended tour of sacred places.
Padayatras have been practiced in India for thousands of years,  as part of the much respected vedic spiritual discipline. These walks, in small or large groups,  proved to be a very effective way to spread spiritual teachings to the masses, especially in a time when the means of transportation were still simple, mostly on foot or  by bullock cart.  All the great acaryas from the past went on padayatra, including Lord Caitanya Himself.  Lord Jesus Christ also walked  to spread his divine message.
In countries outside of India the tradition of religious pilgrimages is still very much alive. We can now witness in the West a revival of catholic and religious pilgrimages. Many people participate in extended walks for many reasons, for political purposes, to get away from the stressing pace of modern life, to find peace of mind, to go back to the basics or simply to get healthy and exercice in a natural environment.
The ISKCON Padayatra sankirtana party, usually accompanied by beautiful vedic oxen,  is thus reviving this ancient tradition to bring Krishna and His teachings, the holy names and the temple right to the doorstep of hundreds of thousands of people all over the world.
THE PRIMARY DUTY OF DEVOTEES IS TO TRAVEL AND PREACH
It is stated in all the Vedic scriptures that the primary duty of the devotees of the Lord is to travel extensively and preach the message of Godhead to the suffering souls. This is stressed by Krishna  and all His bona fide representatives. Many millennia ago, the famous interplanetary transcendental traveller, Narada Muni, related to Vyasadeva his activities after his enlightening encounter with the bhaktivedantas, the great devotees of the Lord: "Thus I began chanting the holy name and fame of the Lord by repeated recitation, ignoring all the formalities of the material world. Such chanting and remembering of the transcendental pastimes of the Lord are benedictory. So doing, I travelled all over the earth, fully satisfied, humble and unenvious." (SB 1-6-26)
In the  purport of that verse Srila Prabhupada comments: "The life of a sincere devotee of the Lord is thus explained in a nutshell by Narada Muni by his personal exemple. Such a devotee, after his initiation by the Lord or his bona fide representative, takes very seriously the chanting of the glories of the Lord and travelling all over the world so that others may also hear the glories of the Lord."
FAMOUS DEVOTEES OF THE LORD WENT ON WALKING TOURS
Vidura left the palace of his brother Dhritarastra  and went touring the holy places after having been insulted by Duryodhana. Lord Balarama went on pilgrimage while the battle of Kurukshetra was taking place. Five hundred years ago, He came back as Lord Nityananda and took the same route as Lord Balarama, spending many years on pilgrimage before His first meeting with His eternal brother,  Nimai Pandit, in Navadvipa. Later on, He  travelled and preached throughout Bengal on the order of Sri Caitanya Mahaprabhu.  Lord Nityananda  can truly be called  one of the modern inaugurators of  the padayatra mission.   The first  transcendental book distribution party, headed by Srinivasa Acarya,  travelled with bullock cart  from Vrindavana to Bengal to bring the original books of the Six Goswamis to the devotees in Navadvipa. During their Padayatra many incredible adventures happened to the three heroes, Shyamananda, Narottama and Srinivasa Acarya.
ALL GREAT ACARYAS OF THE PAST WENT ON PADAYATRA
Many of the previous acaryas of different sampradayas participated in some type of padayatra: Ramanujacarya, Madvacarya, Nimbarka, Sankaracarya are among the most famous. Some performed padayatra with thousands of followers, while others travelled in small groups. The leaders of those walks were all respectable and learned sannyasis.  In order to spread the glories of Narayan and defeat Sankaracaya's impersonal advaita-vada philosophy with his visistadvaita philosphy- qualified oneness-  Sri Ramanujacarya, the  great philosopher and acarya of the Sri Sampradaya, travelled on foot throughout India.
He performed four main journeys during which he was  accompanied by his disciples, chanting the name of Lord Hari  and visiting all the major Visnu temples. His first journey took him from Sri Rangam to the temple of Lord Venkatesvara. His second journey took him to Kashmir to obtain the rare copy of the Vritti Grantha – the impersonal commentary of the Brahmasutra – which helped him compile the Sri-Bhasya and refute the mayavadis. His third journey was the most extensive one, as he wanted to preach the Vaisnava philosophy all over India. He set off with 74 of his chief disciples. He was constantly being challenged by logicians, pandits, scholars, Buddhists, Jains and the Sankara impersonalists, but each time he was able to point out the defects in their doctrines and establish the supremacy of vaisnava philosophy. Sri Ramanujacarya's most effective preaching was while he was on padayatra.
PADAYATRAS STILL TAKING PLACE IN INDIA
The Dindi yatra in Maharasthra
The Dindi yatra in Maharashtra is the oldest and largest pilgrimage still taking place in India. Every year for the past 700 years, devotees of Lord Vitthal – the Krishna Deity worshiped in Maharashtra- walk from Alandi (25kms north of Pune) to Pandharpur Dham (230kms south-east), following in the footsteps of Jnanesvar Maharaja and Saint Tukaram, the two leading saints in Maharashtra. Some pilgrims begin their holy journey from their own villages in Maharashtra, Gujarat and Rajasthan, walking to Alandi, the place of Jnaneswar Maharaja's Samadhi. The followers of this most celebrated Maharashtrian saint carry his silver footprints from the samadhi in a decorated and colourful palanquin onto a silver cart pulled by two white bulls with painted horns. This huge and spectacular procession is known as Jnaneswar Dindi.
Other groups start the walk from a nearby village called Dehu, the birth place of Saint Tukaram. That procession is known as Tukaram Dindi. Tukaram  was a great devotee of Lord Vitthal and is said to have been initiated by Caitanya Mahaprabhu, who instructed him to chant the holy name. He has been exercising  a very strong devotional influence on the local people for the past 300 years. His poems, numbering 4500, are famous as "Abhangas", and they have become a part of the public memory of  Maharashtra, being  sung in every village and every home. He preached throughout his life, exhorting his fellowmen to take to the path of bhakti and chant the holy names. He  verily converted the whole of Maharashtra by his sweet devotional songs and  is the main force behind the continuous kirtans and bhajans that are so sweetly performed during the entire Dindi.
Hundreds of other smaller groups join these two main Dindis and proceed to Pandharpur. The Dindi yatris chant the names of Lord Vitthal and that of Tukarama and Jnaneswar all the way. Vaisnavism is still the main stream of Maharashtrian faith even today. The local sankirtana parties exactly resemble the Gaudiya Vaisnava sankirtana parties, revealing the strong influence of Lord Caitanya and His disciple. They chant the holy name with kholes and karatalas, wear kanthi malas and a tilak mark very much similar to the Gaudiya tilaka.
Moved by the strength of tradition and their own devotion, the pilgrilms on the Dindi yatras undergo severe austerities on the road for only a few minutes darshan of their worshipable deity, Lord Vitthal, who is waiting for them in the temple of Pandharpur, His two lotus hands resting on His hips and a big tilak mark on His forehead. The walkers arrive the day of Sayana Ekadasi and hold  a huge festival on the banks of the holy Bhima river, chanting the glories of Lord Vitthal and His devotees.
Padayatra India and ISKCON devotees participate regularly in the Dindi Yatra. Dr. Thomas Hopkins, chairman of the Department of Religious Studies in Lancaster, Pennsylvania, USA, participated  several times in this famous walk.
During his lifetime, Srila Bhaktisiddhanta Sarasvati Thakura developed the Vraja Mandala Parikrama,  and Srila Prabhupada encouraged his followers to participate in it. The first ISKCON Vraja Mandala Parikrama was organisd by H.H. Lokanath Swami and Padayatra India in 1986. Assisted by a seasoned team, he has been organizing this glorious parikrama as a yearly ISKCON program during the month of Kartika for the past 18 years.   The Vraja Mandala parikrama path followed by the devotees  is the same path walked on by Sri Caitanya Mahaprabhu when He came to Vrindavan.
The Navadvipa Mandala Parikrama
After carefully studying the scriptures and rediscovering the pastimes places which had been forgotten since  Lord Caitanya's departure,  Srila Bhaktivinoda Thakura had a strong desire to establish the Navadvipa Mandala Parikrama, following the footsteps of Lord Caitanya and His associates. Lord Nityananda personally took Jiva Goswami on Navadvipa Parikrama. The Thakura wrote the "Navadvipa Dhama Mahatmya"  relating the dialogue between these two stallwart devotees. Towards the end of his life he instructed his son, Bhaktisiddhanta Sarasvati Thakura, saying, "Develop Sri Navadvipa Parikrama, for by its performance all the people of the world can become liberated."
Srila Bhaktisiddhanta Sarasvati thus organized the Navadvipa Parikrama and turned it into a major  event lasting nine days. He would ride an elephant and lecture right where the pastimes of the Lord and His devotees took place. Local pandits opposed him because he was a revolutionary preacher who admitted all sincere souls in his movement and gave them brahminical initiation without discrimination of birth. When he reached the town of Navadvipa with his party, all the shopkeepers refused to sell  anything to the pilgrims and the temples closed. Eventually Srila Bhaktisiddhanta Sarasvati tamed all the oppositions and subdued all offenders during his lifetime, and the parikrama continued, unimpeded.
It was thus with gratitude for the previous acaryas that ISKCON devotees, headed by H.H. Lokanath Swami, organized the first ISKCON Navadvipa Mandala Parikrama in 1990. Devotees from 29 nations freely walked all over the 9 islands of the dhama chanting the maha mantra and "Jaya Sacinandana, Jaya Sacinandana". After a few years, the initial team of organizers handed the responsibility to the Mayapur management. The Navadvipa Mandala Parikrama has increased year after year to swell to more than one thousand devotees from all nations. In 1996, the Centennial year, the party was numbering around two thousand  devotees and it had to split into two groups, one of them for Russian speaking devotees only.
The annual pilgrimage from Ayodhya to Citrakut
Once a year Rama bhaktas undertake a 300 kms pilgrimage from Ayodhya, the city of Lord Ramacandra, to Citrakut, the place where He remained in exile, thus following in the footsteps of Bharata, Lord Ramacandra's brother.  On the way they recite the Ramayan and chant the holy name of Sita and Rama.
PILGRIMAGES FROM OTHER RELIGIOUS TRADITIONS STILL ALIVE
The pilgrimage to St Jacques de Compostelle through France and Spain
Pilgrimages are prominent also in the Christian tradition. One of the most famous places of pilgrimage in Europe is St Jacques de Compostelle, the location where St Jacques, one of Jesus' disciples, is supposed to have been buried.   In 813 one hermit discovered the tomb attributed to St Jacques, and the first pilgrim to come was the bishop of Puy-en-Velay, a city in the center of France.  The many roads and paths leading to St Jacques have  been chosen by the Christian religious heads for having  holy relics dating from the early days of Christianity. The most famous path takes the pilgrim on a 2000 kms walk from Puy-en-Velay, in the center of France, to St Jacques de Compostelle in Spain.
From the 10th century onwards pilgrims started to make the pilgrimage to Spain from that same place, and every year more and more people participated. In the 12th century, the number of pilgrims swelled  to 300 000 people every year. Over the course of time, people forgot its existence and it is only after the second world war that Christian pilgrims  started to walk the path again through France and Spain. In recent years  there  had been more than 100 000 people walking every year.  The crowd includes a few genuine Christian  pilgrims and mostly nature lovers, people tired of the consumers society, coming to resource themselves. There is a good chance that  this new brand of pilgrims  may also meet God on the way.
.
The pilgrimage to Assisi, Italy, birthplace of St Francis
Assisi, located about 40 kms from the city of Perugia, is the birthplace of the famous Christian saint, Saint Francis.  Saint Francis, founder of the Franciscan Order, was born in 1181 of a rich cloth merchant. When about 25 years of age, he changed his beautiful dress for that of a mendicant and soon after began preaching the message of the Lord. He was a vegetarian and could not stand animals being harmed. For Saint Francis all created things were brothers and sisters, and he saw himself as one member of the immense family of creatures of God.
Today Assisi and  Saint Mary of the Angels are visited by Christian pilgrims from all over the world.It is in Saint Mary of the Angels that Saint Francis built the "Porziuncola", the chapel from where he began sending out his first followers, two by two, to preach from village to village the message of Jesus Christ. In this place Saint Francis had a vision that his teachings would expand worldwide, which did happen after he was recognized by the Pope and  became the head of the Franciscan order.
In 1990, a group of 200  padayatris  joined the 100,000 pilgrims and participated in the traditionnal yearly "Walk for Peace" from Perugia to Assisi. Italian devotees joined by  other ISKCON devotees have been adding harinam to the walk ever since.
Pilgrimages from other religious traditions
The tradition of extended walks exists also in the Buddhist tradition, which is testified by the recent  7 year spiritual ritual of a Buddhist monk, who walked alone for 24,800 miles in the Hiei mountains in Japan. The rigorous regimen he followed makes the austerities on ISKCON Padayatra look like child's play and recreation.
The Muslim tradition is no exception to walks and pilgrimages, as  every year devoted Muslims make their way  to Mecca in Saudi Arabia.
WALKS WITH A SPIRITUAL PURPOSE
Some individuals belonging to no particular religious tradition venture on the road as a sort of pilgrimage and means to gain wisdom. In the US, "Peace Pilgrim",  a single elderly lady undertook a long walk across the country, totally depending on the good will of the Lord and the hospitality of the people she met on the way. For 28 years she walked alone across the US, covering a distance of more than 25,000 miles, sharing her message and realizations about personal peace with whomever she met. After her death, many people continue to be inspired by her words of wisdom, and a few have adopted her means of distributing these realizions  by taking to the road themselves, as she had done during her life.
WALKS WITH OTHER PURPOSES
Although the real purpose of Padayatra is to get closer to God and give others a chance to make spiritual advancement, politicians have sometimes used these walks for other purposes.Their organizers have understood that going on foot is  a very good way to meet the population and get their message across. The most famous Padayatra of this century  is the famous  "Dandi Yatra", the 241-mile salt walk organised by Gandhi in 1940 in defiance of the Salt Act imposed by the British, which lasted for 24 days.
In  the year 2000 a  walk of protest was staged in Europe  to dramatically protest religious discrimination and the war against "cults" going on in Europe, especially France and Belgium. During  the same summer supporters of the Tibetan people walked through the Alps in various European countries, lead by the Dalai Lama himself, to get support for the cause of Tibet invaded by the Chinese communists.
APPENDIX
PEACE PILGRIM: THE FOOT JOURNEYS OF AN EXTRAORDINARY WOMAN
(This article is based on pages of the Peace Pilgrim website and  from the book about her life and teachings,  "Peace Pilgrim, her life and work in her own words")
HER SIMPLE MESSAGE
From 1953 to 1981 a silver haired woman calling herself only "Peace Pilgrim" walked more  than 25,000 miles on a personal pilgrimage for peace. She vowed to "remain a wanderer until mankind has learned the way of peace, walking until given shelter and fasting until given food." In the course of her 28 year pilgrimage she touched the hearts, minds and lives of thousands of individuals all across North America. Her message was both simple and profound. It continues to inspire people all over the world:
"This is the way of peace: overcome evil with good, and falsehood with truth, and hatred with love."
"My single peace message is adequate- really just the message that the way of peace is the way of love. Love is the greatest power on earth. It conquers all things."
"Of course I loved everyone I met. How could I fail to? Within everyone is the spark of God."
"If you want to have friends, you must be friendly. Of you want to make peace, you must be peaceful."
To whomever she met she talked about peace, peace  among nations, peace between    people, and  most important of all, about inner peace.
HER "SPIRITUAL EXPERIENCE"
Peace Pilgrim was born as Mildred Norman in a small chicken farm in New Jersey .  During her childhood she had no formal religious training. The turning point in her life took place in 1938, at a time she was unhappy in her marriage and questioning her way of life. As she was walking through the woods one night she started to pray to God, "Please use me", feeling a complete willingness to dedicate her life to service. It was what  she called later her "spiritual experience". She wanted to live to give instead of living to get. She spent the next 15 years preparing herself, simplifying her life, and getting rid of unnecessary possessions and activities. When her marriage dissolved she started to volunteer for peace organizations. During these years a vital inner struggle took place in her: the struggle between her lower and her higher self, between her self-centered nature and her God-centered nature. "When the God-centered nature takes over, you have found inner peace.", she said. Peace Pilgrim said she would not have become a pilgrim without first having gained this experience of inner peace.
WALKING AS A TRUE PILGRIM, IN UTTER SIMPLICITY:
Mildred's  first walk took place in 1952, when she was 44 years old. She hiked the entire length of the 2,050 mile-long Appalachian trail. She called that "a very enjoyable, educational and inspirational experience". She then walked from Los Angeles to New York and then to Washington D.C. It was to be her life's mission, to be a pilgrim of peace. "Those of us who have found the way of peace should be shouting it from the housetops", she declared.  While crossing the United States six times, she lived in utter simplicity. She wore navy blue sacks and shirt, a pair of tennis shoes and a self-designed navy blue tunic with pockets all around the bottom in which she carried her only possessions: a comb, a folding toothbrush, a pen and  small blue leaflets on peace. On the front of the tunic were printed the letters "Peace Pilgrim", and in the back "Walking Coast to Coast for peace". She carried no money and did not accept any. Neither did she beg for anything. She walked without food until it was offered to her or if she found it in the wild. She slept wherever she could, in bus stations, corn fields, in people's homes, anywhere. She did not want more than she needed when so many people have less than they need.
STEPS TOWARDS INNER PEACE:
Peace Pilgrim  talked about the different steps to take for inner peace. These steps are not to be taken in a certain order. Her advice is just  to take whatever step is easier for each one of us.
There are four preparations:
Right attitude towards life.
Bringing our life in harmony with the laws that govern the universe.
Finding one's special place in the universe through inner guidance.
Simplification of one's life.
There are four preparations: of body, thoughts, desires and motivations.
There are four relinquishments:
Of self-will.
Of the feeling of being separate from others.
Of all attachments.
Of all negative feelings.
Peace Pilgrim's own relinquishments finally led her to her first experience of true inner peace. One morning she had a very uplifting experience, realizing the oneness of all creation, seeing a golden light emanating around everything. In many of her talks before classes and audiences, Peace Pilgrim would recount her experience on her path toward peace.
WALKING HER TALK:
Peace Pilgrim truly "walked her talk". She walked in complete fearlessness, calmly facing arrest for vagrancy, sneering interviewers, violence, misunderstanding, all kinds of weather, drunks and psychotics, even near death in an Arizona snowstorm. She walked with boundless energy, in complete health, with sparkle and verve. Those who met her were impressed by her intelligence, serenity, wit and genuine loving nature. Homes and hearts opened to her, and lives were changed.  Peace Pilgrim, walking penniless with no organizational backing, touched the hearts of countless thousands of Americans. Some were charmed by her simple but cheerful presence, many others were profoundly inspired by her message and her remarkable lifestyle.
A Texas newspaper wrote:" She literally brought "heaven" unto earth. She brought the divine qualities into her life here…She changed lives all over America."
A Dallas minister recalls, "There was no one like her. Her singleness of purpose, her dedication, her love, humour, warmth and high consciousness changed the lives of many of us." The greatest inspiration was that her life and words were one. She was her message. She used to say about inner peace, "If I can find it, you can too. I know there is nothing new in my message, just the practice of it."  Bahai, Christians, Muslims, Jews and Hindus found her message to be the same as the one their religion teaches, because she presented  the essence of all their religion. Her message was simple and nothing new, but her practice was simply  extraordinary.
Years after her "glorious transition" in July 81, as she called death, interest in Peace Pilgrim grew  stronger than ever. Some of her friends printed the books of her sayings and conferences and  created an internet conference dedicated to her. Some pilgrims literally  followed in her footsteps and became pilgrims on the roads of the world, trying to experience the way of peace.
 "A pilgrim's job is to rouse people from apathy and make them think."
For further information contact:
Peace Pilgrim Website (The entire text of the book "Peace Pilgrim: Her life and Work in her own words" is available at this site.)
For a free copy of "Steps Toward Inner Peace" or other information about Peace Pilgrim, contact:  Friends of Peace Pilgrim", 7350 Dorado Canyon Road, Somerset, CA 95 684, USA; Tel: (530) 620-0333
2) THE DESIRE OF  LORD CAITANYA MAHAPRABHU, THE   FATHER  OF THE SANKIRTANA MOVEMENT
In his Arunodaya Kirtan, Srila Bhaktivinoda Thakura sings: "When the eastern horizon became tinged with the redness that heralds the rising of the sun, the jewel among brahmanas, Lord Gaurasundara, immediately awakened. Taking His devotees with Him, He journeyed through thetowns and villages of Nadia. The mrdangas resounded "tathai tathai", and jhajas  – large metal kartalas that look like small cymbals- in that kirtana  played in time. Lord Gauranga's golden form slightly trembled in ecstatic love of Godhead and His footbells jingled. Lord Caitanya called out to the townsfolk:" You spend your nights uselessly sleeping and your days decorating your bodies! Now just fill your mouths with the holy names, "Mukunda", "Madhava", "Yadava", "Hari", chanting without offense."  Lord Caitanya, the father of the sankirtana movement gave us the example to follow, as He is the original padayatri.
 LORD CAITANYA ALSO WENT ON PADAYATRA
After His return from Gaya, the Lord began to reveal to His close friends and associates one of the purposes of His appearance,  the spreading of  His  holy names. During an entire year these ecstatic kirtans  took place behind close doors, but Lord Gaurasundara and His intimate followers  could not be contained for long, and they soon inundated the streets of Navadvipa with exhuberant chanting and dancing. The opposition of the local Muslim kazi to the sankirtana movement resulted in the biggest harinam party ever, with thousands of torch-bearing devotees dancing  and  chanting through the streets of  Navadvipa in the direction of the Kazi's home.  This historical protest march resulted in a change of heart for the kazi and the wide spreading of the holy names, as no obstacle was going to stay in the  way of the sankirtana movement of Sri Caitanya Mahaprabhu. A little more than five hundred years later, devotees of ISKCON organized similar protest marches with Padayatra, to overcome legal opposition to the sankirtana movement in America and UK. Once again they met with success.
Shortly after entering the renounced order at the age of 24, Sri Caitanya Mahaprabhu set out on foot to tour the holy places of South India.  He travelled  throughout  India for 6 consecutive years, undergoing three main travels: from Puri to  South India and back, from Puri to Bengal and back, and from Puri  to Vrindavana  and back. All these are described in great detail in the Caitanya Caritamrita of Krishnadas Kaviraja. The Lord played the role of a devotee, visiting all the holy places, while simultaneously spreading the yuga dharma, the chanting of the holy names.Usually He travelled by Himself to avoid the large crowds that would assemble wherever He went. But when people did gather, the Lord would induce everyone to chant Hare Krishna and He also asked them to introduce this chanting to others upon returning to their respective homes and villages. Thus the Lord Himself demonstrated the effective manner of extensively propagating the sankirtana yajna through Padayatra.
THE INAUGURATOR OF THE VRINDAVANA PARIKRAMA
Five hundred years ago, much of the glory of Vrindavana was covered, many holy places where Krishna enacted His transcendental pastimes were lost to memory, and the people in general did not know the significance of these places. But Lord Caitanya travelled  to each one and He revealed the pastimes that took place there. It is He who revealed the location  of the glorious Radha Kund and Shyama Kund, which at the time were just small ponds  of water in a remote rice field. Because He is Krishna Himself, He was well aware of which pastime was performed at which place 4,500 years before.  By revealing the dhama  and performing the Vraja Mandala Parikrama, Lord Caitanya showed the people of Kali Yuga how they could take advantage of this supreme tirtha. The Lord instructed His very intimate followers, the six goswamis of Vrindavana, to further excavate the lost places of Krishna's pastimes.  The various Vraja Mandala Parikramas now taking place in the dhama, including the annual ISKCON one, are also retracing the footsteps of this  most merciful  form of the Lord.
It is very significant that Gauranga Mahaprabhu only left behind eight stanzas glorifying the holy name. The first one explains His sankirtana movement in a nutshell: "Glory to the Sri Krishna sankirtana which cleanses the heart of all the dust accumulated for years and extinguishes the fire of conditional life, of repated birth and death. This sankirtana movement is the prime benediction for humanity at large because it spreads the rays of the benediction moon. It is the life of all transcendental knowledge and it enables us to fully taste the nectar for which we are always anxious."
All devotees who participated on Padayatra say that it was the best time of their lives, as they were always absorbed chanting the holy names for their own benefit and at the same time spreading the rays of the benediction moon, having no time for material attachments and considerations. They felt the hand and the presence of Lord Caitanya and Lord Nityananda, as they had to depend on Them almost at every step of the road.
While travelling across the Indian subcontinent the Lord ordered all those He met to teach others about Krishna, and thus to become gurus themselves.  At the same time He lamented: "Ekala malakara ami kahan kahan yaba   Ekala va kata phala padiya vulaba"« I am the only gardener. How many places can I go? How many fruits can I pick and distribute? " (C.C. Adi 9-34). The Lord loudly appealed to His devoted followers to help Him distribute the tasty fruits of love of God.  He is still requesting us to continue this task until His name is heard in every town and village of this planet.
PADAYATRA IS THE CONTINUING LILA OF THE LORD
Without a doubt the ISKCON  Padayatra is the continuing  lila of the Lord. Padayatris get to directly assist Lord Caitanya  in distributing these wonderful fruits of love of God in the most remote corners of the planet, in the form of His names, prasadam and books, the three main ingredients of the Padayatra program.  The devotees on the road are sincerely   trying to relieve the Lord  of the anxiety He feels for the deliverance of  the suffering conditioned souls. For the past 25 years on the roads of the world padayatris have witnessed many miracles and daily perceived the hands of the most magnanimous Lords, Sri Sri Nitai Gaurasundara.  Unlike the Lord, we might not be able to make ferocious tigers, powerful lions and deadly cobras forget their lower nature and  dance, embrace and chant the holy names, but we can change many hearts, in a small or big way,  while travelling through hills and valleys, cities, towns and villages of this planet. Literally hundreds of thousands of people have been touched by the sankirtana parties travelling under the banner of Padayatra Worldwide. Their return  journey to the spiritual world has begun, and if they adopt the chanting of the holy names, they will not have to stay in this miserable material world much longer.
PARAM VIJAYATE SRI KRISHNA SANKIRTANAM
"Almost everybody agrees that some changes are necessary in human society", writes H.H.Lokanath Swami in one of the Padayatra newsletters. The list of problems facing the modern world is endless. In the US, considered the most glorious nation on this planet, 20% of the population is mentally diseased, over 250,000 people die each year because of narcotic addiction, around 500 people are killed every week by the use of guns, and to encourage the ever increasing suicide rate, books on how to commit suicide are now freely available in the book stores. …and the frightening list goes on. Various permutations and combinations of these material elements have only yielded temporary changes. Permanent and  beneficial changes will only come about when there are spiritual changes within that society, changes in consciousness.
Sri Caitanya Mahaprabhu gave the formula to  bring remove all our anxieties – Harer Nama Eva Kevalam. Anyone who desires  to bring about changes in himself and in society should take up His mission seriously.   Lord Caitanya Mahaprabhu has guaranteed  supreme success with absolute victory. Param Vijayate Sri Krishna Sankirtanam. Why waste time any more with other formulas which are destined to fail?  We can become instruments of Lord Caitanya to change the world.
It is a pleasure for the devotees to witness first -hand changes of consciousness and attitudes in the impious lives of misguided people all over the world. Butchers  in New Zealand dropped their knives for a while to get a transcendental book and balk at the devotees  leaping ten feet in the air while chanting on the top of their lungs. During rocky times in Jericho, Palestine,  there was a moment of panic  for Parasuram  das and his friend, when they saw  a group of 30 Muslims from a refugee camp approaching them and picking up rocks. Thinking that their last hour had come, they just kept chanting.  But the first man started laughing, banged his rocks together like kartalas. Then all the refugees started dancing and chanting Hare Krishna with the devotees  in the desert.    The day Indradyumna Maharaja lead the kirtan through the main street of North Sydney,  Australia,  forty teen age girls in uniform from a private  prestigious school happened to be crossing the street.  The girls started to gracefully put their arms up  in the air, chant and dance, and pretty soon   they were all dancing, singing Hare Krishna, leaping and jumping in front of the harinam party, increasing the ecstasy of the devotees. The headmaster  and the parents who accompanied them did not look so happy, but the girls were obviously having  a great time.The local paper took a photo which appeared in the front page the next day.
JUST LIKE FIVE HUNDRED YEARS AGO
In certain parts of India, padayatris  can still see and feel what it was like  500 years ago,  when Lord Caitanya was personally present leading the kirtan through every village, empowering villagers to convert other villagers, until the entire land was filled with the holy names and Vaisnavas. Through various descriptions in the Caitanya Caritamrita and other holy books, we can get a general picture of the massive wave of sankirtana  that inundated the places where the Lord travelled in India.
Jaya Vijaya das, Padayatra India leader for ten years, recalls: "Wherever Sri Sri Nitai Gaurasundara travel, hundreds upon hundreds, and sometimes thousands of villagers come running from all directions, just to greet the Lord for a few moments. Sometimes they follow alongside, indicating their strong desire to be with the Lord in their natural position. They are always anxious to raise their hands high to the sky and chant the maha-mantra. "
Today, especially in Orissa and West Bengal, the influence of Sri Caitanya Mahaprabhu is still felt, although of course the influence of Kali Yuga is also there, explains Svetadvipa das.  " Almost every village we come across sends its kirtan party to greet us. Each village has its own kirtan group that plays traditional bhajans for the Lord, sometimes playing for Lord Jagannath Himself in the Puri temple.  Once I witnessed a whole village preparing to receive Padayatra. The school children picked flowers and the young girls, the auspicious kumaris, made garlands; the ladies dressed themselves with clean saris and brought trays holding ghee-wicks, incense, flowers, rice, kum-kum powder, coconut and Tulasi leaves for offering; farmers brought grains which they offered to the elephant and hay for the bulls. Best of all, two kirtan groups took the lead of the procession and danced before the Deities as Padayatra entered the village. The first group danced rhytmically accompanied by one very fat mrdanga and kartalas, chanting the maha-mantra constantly with the typical pronunciation of "Krushna, Krushna". The second group was spectacular: six huge karatalas and three unusually long and large mrdangas which the men had to beat with extended arms. The leader chanted long verses with the others answering while beating the drums in harmonious rhythm.  After the cart was parked, the mrdangas kept on playing for four hours and the nine men would move altogether in a dancing step familiar to them. People repeated joyously "Mahaprabhu, Mahaprabhu". While chanting the holy names, their hands were folded, heads bent and their eyes closed in a very deep prayerful attitude."
APPENDIX
b- Dead bodies stay in their houses ( Lecture by His Holiness Gour Govinda Swami)
PLACES VISITED BY SRI CAITANYA MAHAPRABHU
NORTHERN INDIA

1 – Sri Mayapur
2 – Katoa
3 – Vidyanagar (Bengal)
4 – Kulia (Navadvipa)
5 – Santipur
6 – Jasda
7 – Kumarhatta
8 – Panihati
9 – Barahanagar
10 – Athisara
11 – Chhatrabhog
12 – Picchalda
13 – Tamluk
14 – Jaleswar
15 – Remuna
16 – Bhadrak
17 – Jajpur
18 – Cuttack
19 – Bhubaneswar
20 – Kamalpur
21 – Puri
22 – Konarka
23 – Alvanath

SOUTHERN INDIA

24 – Kurmachalam
25 – Simhachalam (Jiyar Nrsimha)
26 – Vidyanagar
27 – Kovur
28 – Panaka Nrsimha (Mangala Giri)
29 – Mallikarjunatirtha (Srisaila)
30 – Ahobilam
31 – Panchapsaratirtha (Falgutirtha)
32 – Siddhavata
33 – Venkatadri
34 – Srikalahasti

35 – Tirumalayam
36 – Tirupati
37 – Sivakanchi
38 – Vishnukanchi
39 – Skan
40 – Pakshitirtha
41 – Briddhakolatirtha
42 – Brisshakasi
43 – Chidambaram
44 – Siyali
45 – Gosamajtirtha
46 – Vedaranyam
47 – Kumbakonam
48 – Papanasam
49 – Srirangam
50 – Tanjore
51 – Durbasayanam
52 – Madura
53 – Rishavaparvata
54 – Ramesvaram
55 – Dhanuskotitirtha
56 – Tilakanchi
57 – Amlitala
58 – Srivaikuntham
59 – Mahendrasaila
60 – Navatirupati
61 – Tiruchendore
62 – Vetapani
63 – Kanyakumari
64 – Malayaparvata
65 – Cheartala
66 – Gajendramoksha – natirtha
67 – Tiruvattar
68 – Panagadi
69 – Panchapsara Tirtha
70 – Thiruvanantapuram (Trivandrum)
71 – Janardana
72 – Chamatpur
73 – Tritakupa
74 – Matsyatirtha
75 – Udupi
76 – Sringeri
77 – Gokarnam
78 – Rishyamuk – parvata (Dandakaranya)
79 – Kolahpur
80 – Pandarpur
81 – Dwaipayani (Mumbai)
82 – Surparaktirtha
83 – Kushavartagiri
84 – Nasik (Panchabati)
85 – Brahmagiri
86 – Dhanustirtha
87 – Mahismatipur
88 – Return route to PuriNORTHERN INDIA

89 – Ramkeli
90 – Mandar Hill
91 – Kanai Natsala
92 – Gaya
93 – Rajgiri
94 – Punpuntirtha
95 – Kasi (Benares)
96 – Prayag (Allahabad)
97 – Arail
98 – Ayodhya(Oudh)
99 – Naimisaranya
100 – Sorokshetra
101 – Mathura
102 – Renuka
103 – Govardhana
104 – Radhakunda & Shyamakunda
105 – Vrindavan
106 – Seshasayi
107 – Kurukshetra
108 – Jharikanda (Choota Nagpur)
3) SRILA PRABHUPADA, THE INSPIRATION BEHIND PADAYATRA
ABHAY'S FIRST PADAYATRA NEAR JHANSI
Eagerness to ignite a spiritual revolution in the world
Srila Prabhupada performed Padayatra several times during his life, and he gave  instructions to various devotees to organize this kind of a preaching program.
In 1952,  when he was still Abhay, he organised the League of Devotees in Jhansi. He was urging the Jhansi residents to participate actively in this international preaching organization, quoting Lord Caitanya who had said that the residents of Bharata Varsa  had a special responsibility to distribute God consciousness.  Nourished by the books about Sri Caitanya Mahaprabhu, he was very eager to ignite a spiritual revolution throughout the world.
Walking through the villages near Jhansi
Accompanied only by Acarya Prabhakar, his first disciple, he used to walk about the neighborhoods of Jhansi, chanting Hare Krishna. The  group gradually increased until fifty people were going  out on parikrama regularly, chanting  together and visiting the  temples. Abhay would also go to preach in the nearby villages, usually  accompanied by whatever League members were free. Once he went with Acarya Prabhakar on Padayatra to Chirgoan, some twenty miles from Jhansi, and on their return they spent one day in each of the five villages along the way. At night the villagers would gather, and Abhay would lead kirtan. He explained that although most of these simple farmers were not scholars in Bhagavad-gita or  Bhagavatam,  they could achieve the highest spiritual benefit simply by kirtana. Abhay was well received by the villagers who begged him to return soon but to give them advance notice next time so that they could prepare a proper reception.
INTRODUCING THE IDEA OF PADAYATRA THROUGH VARIOUS INSTRUCTIONS AND LETTERS
I can immediately take up this programme
The first time Srila Prabhupada introduced the idea of bullock cart sankirtan  was at the end of 1974, in Bombay. He surprised his disciples with his new idea, and even promised Bhagavat Das and Tribhuvanath Das he would accompany them, but the idea was not pursued.  Then, on April 16th1976, he sent a very encouraging letter to Punjabi Premananda, a young Indian man who was willing to organize Padayatra:  "Concerning your offering of doing Padayatra travelling village to village, if young Indian men join me I am immediately ready for this travelling touring from village to village, town to town. However my foreign disciples have the language defect, they can't speak the village language, otherwise I would have started this programme long ago. If some young men like you would join me then along with some foreign disciples I can immediately take up this programme. If you are very eager, please get hold of at least half a dozen young men like you then with another half dozen foreign disciples, I can immediately take up this programme and tour village to village and town to town. It will be very, very effective, I know that."
The first walk from Hyderabad to Mayapur
In the same year, about half a dozen devotees from the Hyderabad farm traveled with a bullock cart from Hyderabad to Mayapurin only three months.  When they arrived, Prabhupada received them at the entrance gate. He was very enthusiastic about their program and  full of praise for the participants.  Upon seeing their bright faces, he then commented, "Naturally the sankirtan men travelling with the bullock carts are blissful. It is Lord Caitanya's engagement. Lord Caitanya  personally travelled all over India for six years."
Instructions to Lokanath Swami
Some time later  Srila Prabhupada arrived at the  Delhi temple in Lajpat Nagar and he was surprised to see  Lokanatha Swami there. Maharaja was supposed to be travelling and preaching all over India with the Gaura Nitai travelling sankirtana party. When Prabhupada heard about the various  problems encountered because of  the two modern  elephants (the two German Mercedes buses) he instructed him to replace those  with two vedic bulls and go preach village to village by bullock cart. As soon as Prabhupada uttered these  words, Maharaja  assimilated them and was more than willing to take up  the task.  The following night, Lokanath Swami  and  Atma Tattva Das were too excited to sleep. They talked for hours about how they could organize a bullock cart Travelling Sankirtan Party.  Lokanatha Maharaja felt he was going right back to his  roots. In his native village in Maharashtra  the only means of transport he had ever  known  was by foot or by bullock cart. Only at the age of twenty, when he moved to Bombay, did he have his  first car ride.
SRILA PRABHUPADA' FURTHER INSTRUCTIONS ON PADAYATRA
Vedic bulls instead of modern machines
On September 1st 1976 – Radhastami day – Srila  Prabhupada gave more specific instructions about Padayatra. He described the many defects in Kali-yuga with modern machinery and the cumbersome arrangements for their maintenance. He instructed the devotees that when entering a village to camp near a well; they could thus stay very clean and also  catch the people going there and preach to them.  Wasting  no time, the devotees  started the preparations right away, got pots, books and banners,  and recruited devotees. Immediately 22 volunteered, but perhaps only half of them actually started the walk.
Instructions on how to preach in the villages
By September 12th, as the party was ready to go, the team of padayatris all crammed into Prabhupada's quarters to get his blessings. Srila Prabhupada spoke at length, encouraging them  in their  new venture.  He reminded them of the principles which Mahatma Gandhi stressed:" Whatever material resources are available within the radius of 5 kms around the village, the villagers should depend on  that and be happy."  He  also talked about Gandhi wanting to inspire people to stay in the villages and how his vision was too limited for it to work. "One must have some attachment.", Prabhupada explained, "In the city there are so many artificial attachments, so on what grounds will they remain in the village?  There must be some  higher taste, some better, more attractive alternative, which can be obtained through the chanting of the holy name. Chant as much possible and eat prasadam.  There is no education required, no philosophy required.  But follow Caitanya Mahaprabhu's instruction and become guru: "amara ajnaya guru hana tara ei desa yare dekha, tare kaha 'krsna'-upadesa "  The basic principle is this:  Induce them to chant and take prasada.  You'll be successful."
"I like your program very much"
With no funds to buy a team of oxen and an ox cart, but with lots of enthusiasm, the small party took off for their nine hundred mile  journey. At the beginning they survived by begging, collecting grains and distributing books, and  hiring a tonga to carry all their books and  belongings.  Later on they rented a bullock cart and started to distribute more prasadam to the villagers. As promised,  they sent Srila Prabhupada regular reports, describing their preaching and the reception in the villages.  "The programme is very simple, but a very potent and purifying one", wrote Lokanath Maharaja.  On September 21st, Srila Prabhupada sent an encouraging response," I wish I could have joined you.  I like your program very much.  If you continue this program you will be benefited, people will be benefited, and everyone will be happy."  Three months later they proudly announced to Srila Prabhupada that they had now their  own  cart and oxen and had visited 37 places so far. Lokanath Maharaja reported,  "Due to the success of the travelling and preaching, all the boys on the party are inspired as if they won't stop untill the glories of the Holy Name reach every town and village!" The padayatris had appealed for financial assistance from the temples, but Prabhupada had discouraged them,  "Do not depend on outside help. Also, for financial support depend on Krishna. That is preaching success. People's appreciation will be practical when they help you financially also. Also, book distribution. We are maintaining our huge establishment by selling books. That is wanted. In foreign countries they are distributing huge quantities of books. Money is needed, that you have to collect. You can't expect money from outside. That is not successful preaching. You have to create devotees by your preaching work and train them according to your needs."
Anxious to hear about the bullock cart sankirtana party
Prabhupada was very happy to meet the bullock cart  sankirtana party at the Kumbha Mela in Allahabad.  Standing in front of the banner hanging on the cart, he moved his head gently and read it aloud, "Bhaktivedanta Bullock Cart Traveling Sankirtana Party"  followed by an appreciative "Jai!" from all the devotees. Then he walked a short distance to get a bundle of grass  to feed the bulls,  patted one of them on the cheek, turned around and  said: " They won't take any more births, because they are carrying Nitai and Gauranga from village to village."
Prabhupada was very anxious to hear how everything had been going on the bullock cart party since the last meeting they had with him, on the day of the inauguration, three months before in Vrindavana.The padayatris gave him detailed descriptions, which villages they went through, where they stayed, what the people donated, what was the quantity, where they  stayed, how they kept clean, what was their morning program, and so on. He wanted to know all the details, without rushing through. Prabhupada was responding as if there was nothing more important to him than listening to Lokanath Maharaja's report, hearing all this with great pleasure.  He was pleased to hear how they  depended on Krishna and whatever the villagers provided them, and  how they fed them prasadam in return.  When Gopal Krishna Maharaja suggested to take Lokanath Maharaja back to Bombay to render management services there, Prabhupada swiftly overcame all of Gopal Krishna Maharaja's objections and kept him as the Padayatra leader.  He was so eager to engage him in the bullock cart preaching program!
To this very day Lokanatha Maharaha has kept a very vivid image in his mind of Prabhupada beaming with pleasure that day in the Kumbha-Mela tent.  After more than twenty five years, this vision continues to give him  fresh strength and inspiration to push on the Padayatra sankirtana program.
Killing the padayatris with love in Mayapur
Prabhupada was in Mayapur at the time the Padayatra party arrived, during the annual Gaur Purnima festival. He had sent some devotees to receive them with a kirtan party.  After kirtan and settling down, they  ventured  to go and see Srila Prabhupada in his quarters,  even though it was around 11 pm. His servant Hari Sauri tried to stop them,  but Prabhupada saw the devotees waiting as he came out of the bathroom. "Oh, bullock cart party!", he exclaimed with a big smile, and invited them in. Prabhupada was practically killing them with love with his unexpected reception, his smiling and merciful glance, his gift of prasadam and garlands. Once again he was eager to hear the whole story of their travels, where they went, which towns they visited, which route they took, everything.  Lokanath Maharaja, referring to one of the first books published by Srila Prabhupada "Easy journey to other planets",  summarized their months of adventure with a few words, "It was an easy journey to Mayapur planet!"  When they finally left, around 1.30 am, Prabhupada said to Lokanath Maharaja: "You have come to Mayapur, now I want you to go to Jagannath Puri.", which they did right after the  festival.
We can introduce millions of such carts all over the world
On March 16th 1977, Srila  Prabhupada wrote a letter  to Nityananda Das, the head of the New Talavan farm community in the US.  While talking about self-sufficiency, he brought up the topic of oxen and Padayatra,  "And oxen can be used for driving carts and  preaching village to village. What is the question of killing them?  Here in India our Lokanatha Maharaja has successfully organized such a program and it is a great success.  He has traveled all over India and everywhere they distribute books, prasadam and perform kirtana, village to village.  Each night they stop at a different village.  We can introduce many millions of such carts all over the world."
SRILA PRABHUPADA'S LAST DESIRE: TO GO ON BULLOCK CART PARIKRAMA
In October 1977, the Srila Narada Muni Traveling Sankirtana Party, of which Lokanath Maharaja was a member, was travelling in North India, preaching, distributing books and holding festivals. Upon hearing the news that Srila Prabhupada's health was getting worse and that many devotees from around the world had gone to Vrindavana, they also returned to Vrindavan. When they arrived, a group of senior men and GBCs were meeting with Srila Prabhhupada. When the meeting was over, Srila Prabhupada called Lokanath Maharaja and asked him to come close to his bedside. Then, in a very grave and serious way, he asked him what time was convenient for them to speak. Maharaja replied that there was no question of his own convenience. This humility displayed by Srila Prabhupada was beyond his imagination. They agreed to meet that day at 4 p.m.
At 4 p.m. sharp Lokanath Maharaja went to Prabhupada's quarters, but  he was derouted and taken to the guesthouse lobby where many senior Vaisnavas were holding a discussion, including Prabhupada's servants and his senior disciples. Earlier during the day Srila Prabhupada had been discussing with them that he wanted to travel on a bullock cart around Vrindavana and that  he desired Lokanath Swami to arrange it. When  a devotee had suggested they travel on bus instead, Prabhupada had refused: "No, no, bus will not be good. Get me a bullcok cart." Some of Srila Prabhupada's senior disciples were begging him not to jeopardize his health by going on the bullock cart as the rough roads would be too painful for Prabhupada's emaciated body.  There were two parties of opposite views.  One party was thinking that if Prabhupada wanted to travel on bullock cart, then it  was their duty to arrange things the way he wanted. The other party was seeing Prabhupada's health as a major obstacle. Prabhupada reasoned that dying on parikrama was glorious. The doctor, however, assured the devotees that Srila Prabhupada's body would not survive the jostling of the cart. Tamala Krishna Maharaja and Bhavananda Maharaja, who were then serving Srila Prabhupada with great intimacy, felt themselves unable to support Prabhupada's last desire.  Prabhupada could see that  the many devotees who crowded around his bed held different opinions. Lokanath Swami and Hamsaduta Swami suggested that the parikrama could go to the city of Vrindavana or visit the seven main temples of the Goswamis. But then they suggested that since the next day was Govardhana-puja, Prabhupada could go to Govardhana Hill. Tamal Krishna, Bhavananda and Bhalti-caru, however, protested adamantly against the parikrama.
"One–day experiment," Prabhupada said. "It is for one day. Rest assured I will not die in one day." He liked  the idea of going to Govardhana. "And we shall make our cooking there," he said. Lokanath Swami, he reassured them, was experienced. "Make very good picnic," he said.  After discussing back and forth, the devotees finaly decided that early the next morning they would take Srila Prahupada in a bullock cart to Govardhana. The majority of the devotees then left Prabhupada alone for the night. Accompanied by Pancadravida Swami and Trivikrama Swami, Lokanath Maharaja immediately went to Mathura to arrange for two bullock carts. They  arrived the same evening in front of the Krishna Balaram Mandir.
The next morning, on Govardhana Puja day, Lokanath Maharaja and the other devotees were  ready to get on the road with Srila Prabhupada and his party. But during the night something else had transpired: Prabhupada had received a visit from Niskincana Krisna dasa Babaji, who sat with Prabhupada chanting and sometimes speaking in Bengali. Suddenly, Tamal Krishna Maharaj and Bhavananda Maharaja had come to Prabhupada's bedside, in tears and beside themselves with anxiety. After much discussion and appeal from Tamal Krishna Maharaja and Bhakti Caru Maharaja,
Srila Prabhupada finally relented, not wanting to put his dear disciples in so much anxiety,  and he agreed not to go. Thus the bullock cart sankirtana party was called off. But for a few days the whole atmosphere in the temple and around Prabhupada had been  surcharged with talks of  the bullock cart sankirtana  party.
Some days passed, and then again Srila Prabhupada brought up the idea of traveling and preaching. He disliked lying in his bed where he had been confined for months. Now he wanted to go out again and physically lead the sankirtana mission. He had always said that he wanted to die on the battle field like Arjuna. This time he spoke of using motor vehicles, not bullock carts, and having an advance party going ahead. The devotees were very happy with these plans, as this seemed to indicate that Srila Prabhupada intended to stay longer on the planet. They quickly made arrangements. Different devotees stepped forward and asked if they could come along to assist in various capacities. When Lokanath Maharaja asked what his role would be, Prabhupada replied "You will be our leader". However in the evening of November 14th , Srila Prabhupada left this mortal world. Some days after his departure, in order to fulfill his last desire, the devotees performed parikrama of Govardhana Hill with a bullock cart, carrying a portrait of  their eternal well-wisher. Thousands of disciples and followers of Srila Prabhupada participated in this last procession.
Something to deeply think about
Only  a few days before his departure Srila Prabhupada wanted to go on pilgrimage on bullock cart.  Our Founder-Acarya's  every little movement has a purport and is meant to teach us something, what to speak of a whole day's mood. It is something for his followers to deeply think about, especially as it was one of his last desires. The Padayatra idea stayed dormant for the next seven years, when in  1984, at the approach of the five hundredth anniversary of the appearance of Lord Caitanya Mahaprabhu, the GBC requested Lokanath Maharaja to be the leader of the Padayatra party  that would travel all around India from Dvaraka to Mayapur. After 18 months on the road and a phenomenal success, the devotees did not want to stop there. Lokanath Maharaja started the Padayatra Worldwide office in New Delhi to assist and facilitate the 100 walks that were to take place during Srila Prabhupada's centennial years. Of all the different instructions, general and specific, he had received from Srila Prabhupada, he had taken this one as his direct instruction, which he is trying to follow for the rest of his life. Srila Prabhupada would be pleased to see that the seed he has planted has grown and fructified. Still the goal he has envisioned is far away, no less than millions of such Padayatra carts all over the world. Happily there are still 9,500 years to go, enough time for the Padayatra parties and the holy name to reach every town and village.
4) HOW PADAYATRA SPREAD ALL OVER THE WORLD
TRIUMPHANT BEGINNINGS IN INDIA: THE WALK FROM DVARAKA TO MAYAPUR
Celebrating the 500th anniversary of Sri Caitanya Mahaprabhu
In 1984, His Holiness Jayapataka Swami proposed the idea of doing a Padayatra to celebrate the 500th  anniversary of the appearance of Sri Caitanya Mahaprabhu. The GBC voted in favour of the  proposal and promised its support. Tattva Darshan Das, a Western disciple of Srila Prabhupada, took it to heart and began preparing for the walk by making  many arrangements: Sri Sri Gaura-Nitai's appearance, GBC's help, money, manpower, prasadam, routes, research, bulls, elephants, camel, deity cart, bullock cart, projectors, films, generators, trucks and trolleys! With other devotees, he wanted to retrace  the same route as the one Lord Caitanya had travelled.
The walk was scheduled to start in Dwaraka and end in Mayapur on Gaura Purnima 1986 – a route of 7,000 kilometers, to be covered in 19 months.  When everything was ready,  they asked Lokanath Maharaja  to be the leader, as they knew he was experienced in traveling village to village with bullock cart. The main objective of the walk was to please Lord Caitanya by glorifying Him, and establishing Him as the Supreme Personality of Godhead. The secondary goal was to  introduce Srila Prabhupada as the empowered representative of Lord Caitanya, spreading the holy name of Krishna to every town and village.
A phenomenal success
On the holy day of Radhastami, Sept 2nd  1984,   more than one hundred ISKCON padayatris  left Dvaraka Dham at the westernmost point of India, full of new enthusiasm, not really sure what to expect. In the beginning  it was quite disorganized. However qualified devotees got involved in the management, including His Holiness Jayadvaita Maharaja, and the presence of Lokanath Swami  kept it together.  The first grand scale Padayatra  turned out to be a phenomenal success:  one elephant, several bullock carts, camel carts, big pandals programmes, huge  harinams and  roaring kirtanas,  50 to 200 "white elephants" ( foreign devotees),  a large advance party, up to seven vehicles to accompany the party, local sankirtan buses joining in, thousands of people attending the stage program every evening, amazing receptions everywhere, widespread book distribution, Food for Life almost every day, dioramas and exhibits, numerous favourable articles in nationwide newspapers, thousands of people taking darshan of Sri Sri Nitai Gaurasundara, meetings with officials, visiting many places of pilgrimage, and so on..The books were financed by foreign BBTs and funds would come from indian ISKCON centers and individual pleges. The 7,000 km walk ended gloriously in Mayapur for Lord Caitanya's birth anniversary during the 1986 Gaur Purnima festival.
SRILA PRABHUPADA'S CENTENNIAL PADAYATRAS
During the official reception ceremony in Mayapur in 1986, Tamal Krishna Goswami gave the answer for what the padayatris would be walking for – "Srila Prabhupada Centennial". The suggested  theme was immediately adopted and the party was renamed the "Srila Prabhupada Sankirtana Padayatra".  Padayatra India continued in a more humble way with a small party, reducing equipment and animals, headed for ten years by Jaya Vijaya dasa, an American disciple of Lokanath Swami. After a stop in Vrindavana in 1989, during which the devotees  inaugurated the ISKCON annual Vraja Mandala Parikrama, padayatris wentup  to Badarik Asrama in the Himalayas, then back to Dvaraka  for a triumphant return, and again across India to Mayapur.  Even though the leaders, devotees and oxen walking on the Padayatra have changed, the India Padayatra party has not stopped walking since 1984, and there is no talk of stopping.
Padayatra America and the creation of the Padayatra
Worldwide Office in Delhi
After many years of Padayatra in India the idea of introducing Padayatra in the western world was a natural development. In 1989, Abhay das and Jada Bharata das organised Padayatra  in California, which walked  from San Francisco to the Mexican border.  After this Padayatra proved very  successful, even without ox carts, quickly the idea of doing Padayatra made its way to Europe, but the situation there was more complex – many countries, many temples, many languages. Some leaders and devotees were in favor of the walk, but many were sceptical, fearing excessive costs, a negative impact on the pubic, over-drawing the temples' manpower, and so on. From the feedback received and considering the magnitude of the project, it became clear that introducing Padayatra worldwide needed planning, coordination and a lot of communication and promotion. Thus in April 1990 the Padayatra Worldwide Office was opened in New Delhi, staffed with 3 devotees. Its mission was to develop a strategy, network with temples and interested individuals worldwide, offer guidance, promote Padayatra through publications, produce resource materials and paraphernalia, and monitor the progress. The Padayatra Worldwide newsletter expanded from a few typed sheets  to a regular publication with photos and many exciting features.
The first Padayatras in  Western countries
Enthused by  the success of the first 7 000 kms walk in India, devotees there decided to stay on the road.  Padayatra America, which was scheduled to stop in Tijuana after the  walk,  just could not stop at the Mexican border. The padayatris went down to Mexico, walking from Guadalajara to Mexico City, and into the small country of Belize. A new infectious disease had been born, the Padayatra fever, and once you got it, nobody could take it out of your system. Thus Padayatra America was immediately followed by many other walks: Mauritius, Guyana,  Ireland, Italy, New Zealand, Trinidad, etc. At a time when Russia was still under communist rule and the Iron Curtain was impossible to cross, European padayatris dared to set the ambitious goal of walking from Belfast to Moscow by 1996, Srila Prabhupada's Centennial celebration year. Little did they know that Lord Gaurasundara had in store to fulfill their ambitious desires in an unexpected way, as the story will later explain.
In 1991, Padayatra Europe walked through England, Holland, Belgium and France.  In 1992 and the following years, there was a rapid expansion of Padayatra worldwide. Several Padayatra teams became permanent travelling yatras – Padayatra America, Padayatra Europe, Parasurama's party and Padayatra Indian Ocean,  and an increasing number of devotees took the initiative to organise walks in their own countries, such as Australia, Malaysia  and  Fiji  in 1992.
ISKCON leaders express their appreciation for Padayatra
ISKCON leaders and devotees started to voice their appreciation of Padayatra. They sent words of appreciation to Padayatra organizers, offered support and got in action themselves, as they came to understand that Padayatra  was one of ISKCON's most feasible and powerful preaching programs.  Tamal Krishna Maharaja wrote a very appreciative and encouraging letter to Padayatra Worldwide leader, H.H.Lokanath Maharaja.
During the 1990 Mayapur festival, Maharaja met with Hrdayananda Maharaja and told him of his plans to continue  Padayatra till 1996. Hrdayananda Maharaja questioned him, "Then what happens after?"  "We'll see," replied Lokanath Maharaja. "What is there to see? Why are you planning only for another seven years, why not for the next 9500 years?" shot back Hrdayananda Maharaja. There was nothing else to be said.
At the annual meeting in Mayapur in 1991, the GBC drafted statements articulating ISKCON's aims. The one assigned to the Padayatra Worldwide Ministry was "To bring the congregational chanting of the holy names to every town and village of the world through organised Padayatra festivals."
Appendix a:  Letter of H.H.Tamal Krishna Maharaja to H.H.Lokanath Swami
Centennial Offering: Padayatra in more than 100 countries
By the time of the 1989 Kumbha Mela,  the first Padayatra was under preparation in America, and Lokanath Swami was contemplating introducing the program in even more western countries. The inspiration to do Padayatra in 100 countries came during that Kumbha Mela, as  Prasanta Dasi was sent to the different camps to research how different groups had celebrated the  anniversaries of their leaders. The followers of Swami Shivananda of the "Divine Life Society" had offered achievements in groups of 100 such as, opening 100 hospitals, speaking on 100 radio shows and so on.  Lokanath Maharaja then decided, "So let us do padayatra in 100 countries." Even though it seemed a little unrealistic at the time,  all the simple and enthusiastic padayatris cheerfully shouted "Jaya!".
The first task of the newly formed Padayatra Worldwide Office team was to identify these 100 countries. Easier said than done, as at that time there were only 164 countries in the whole world. The staff had to carefully study each country situation. The Padayatra program was not possible in some of them because of religious or political restrictions, wars or natural constraints such as weather, vegetation, topography, deserts, etc.  Ultimately the team  managed to compile a decent list and began communicating. Not all of these countries had ISKCON centers, though. In 1991 Lokanath  Maharaja was appointed GBC Monitor for Padayatra by the GBC, and the following year he  was also appointed Global Centennial minister. Padayatra  became just one of his many services, making it even more unlikely that the goal of 100 countries could be reached by 1996.
Lokanath  Swami  believed that as long as  Padayatra India, the mother of all Padayatras, stayed on the road, the expansion of Padayatra Worldwide would continue.  And it did!  By December  1994, 50 countries had been covered. But as the Centennial campaign progressed, gradually the publication of the Padayatra newsletter dwindled, and Lokanath  Maharaja stopped travelling with the  Padayatra. As there was no more time or energy to push on Padayatra, the only remaining option was to pray for mercy, having firm faith that Sri Sri Nitai Gaurasundara were the actual Padayatra leaders and that They would go wherever They wished to glorify Their pure devotee Srila Prabhupada. By Their grace  Padayatra slowly continued. Still by January 1996, there were 30 countries left to go. A few more countries were covered during the Padayatra week in June 1996. As the staff in Delhi was wondering how to make the 100 country goal, suddenly a phone call came from Ramiya Das, North American Centennial coordinator, announcing that he was eager to inspire several teams of devotees to travel to island countries in the Caribbean. Another call came from Moscow, where  the padayatris had just arrived , and Ekanath dasa, Padayatra Europe's leader, announced that his team was prepared to cross the newly formed CIS countries.  They saw the hand of Lord Caitanya in the fall of the communist regime in Russia and the formation of 14 new independent countries, which could be added to the list of 164 countries. Also that time Shaunaka and Padayatra America went back to the road and headed for Cuba. The West African countries, inspired by Bhakti Tirtha Swami,  walked  through 6 countries. Just before the end of 1996,  Padayatra had reached 100 countries, covering a distance of over 80,000 kms.
In total, devotees walked through 16 countries in North and Central America, 5 countries in South America, 34 countries in Europe, 10 countries in Asia, 6 countries in Australasia, 15 countries in Africa and 14 countries in the former Soviet Union, including the Baltics.  At the time there were temples in only 80 countries, so it appeared that Padayatra introduced the holy name and Krishna consciousness in at least 15 new countries.
During the Centennial year, many walks were organised in India, besides the regular Padayatra India. In 1995 H.H. Gaur Govinda Maharaja organized an 18-day walk around Bhubaneswar in Orissa, followed by other walks. H.H. Bhakti Purusottama Swami organised another Padayatra around Mayapur, devotees in Maharashtra did the same in their state.
Appendix b:   Padayatra in more than 100 countries
A new style of Padayatra with H.H.Bhaktimarga Swami
During the Centennial year, H. H. Bhaktimarga offered a very special achievement to Srila Prabhupada, as he ventured alone on a unique style of Padayatra, walking 8,500 kms across Canada on the Trans Canadian Highway,  from Vancouver on the West Coast to the East Coast.
Appendix c:  Cross Canada walk (1996)
Appendix e:  Report about the 2003 walk across Canada
Walks after 1996
After 1996, Padayatra India continued touring India, and a base for tired or retired padayatris, belonging to the human or the bovine species, has been established in Pandharpur, Maharashtra. The Padayatra Wordwide newsletter is still occasionally published and a Padayatra conference has been established.  Every year Padayatra  walks are being organised in various parts of the world –  as a regular annual programme, an occasional event, or for the very first time. In 2003, Bhaktimarga Swami crossed Canada alone again, in the opposite direction this time, from the East Coast to the West Coast, which gave him plenty of time to think about his third walk….
The Padayatra fever is still burning – Padayatra is forever, at least for the whole duration of the Golden Age of the Golden Avatar!
Appendix:
d   Walks organized after 1996
f    Map of India (walks from 1984 to 1996)
g   Map of Europe (walks from 1990 to 1996)
h   Map of North and Central America (walks from 1989 to 1996)
1985 LETTER OF H.H.TAMAL KRISHNA GOSWAMI TO H.H.LOKANATH SWAMI
My dear Lokanath Maharaja,
Please accept my humble obeisances. All glories to Srila Prabhupada.
I am just writing to you being deeply inspired  after reading your Padayatra Newsletter Volume 6. I have carefully followed each of the newsletters and find the description of the padayatra exactly resembles the mood described in the Caitanya-caritamrta. I can therefore understand that the devotees who participate in the padayatra are actually entering into the eternal pastimes of Sri Caitanya Mahaprabhu's sankirtana party.  Therefore it seems to me of utmost necessity that  every devotee in our movement should participate in this padayatra program at some time  or another.
Frankly, I was feeling that this padayatra should not be stopped at the time of the 500th anniversary celebration. Why should it not continue indefinitely into the future years to come? Just as we see in India that there are many temples that have 24-hour kirtana. In Vrindavana, there are temples which have been doing this for many, many years. So why should our movement not maintain a continuous padayatra program year after year throughout India? In this way, even if devotees cannot join in the next year, there will be many opportunities in the future. And what about future generations of devotees as well? In this way they will also get that same opportunity. Srila Prabhupada told us that we would be able to conquer over India if we performed padayatra. I have not doubt that if our movement continues this program on a permanent basis there will be no close competition to the Hare Krsna movement in India and we will certainly gain the blessings of the entire sampradayas acaryas.
You have my deepest appreciation and respect for heading up this program. May Krsna give you all strengh and determination to go on leading it for many, many years to come. All glorie to Srila Prabhupada and the glorious Caitanya Mahaprabhu sankirtana yajna.
Your servant SD/
Tamal Krsna Goswami
PADAYATRA IN MORE THAN 100 COUNTRIES
Padayatras organized from 1984 to the end of 1996
| | | |
| --- | --- | --- |
| Country | Organizers | Years  |
| 1 – India | ISKCON & H.H.Lokanath Swami | Sept.1984 to March 1986 |
| | Jaya Vijaya das |  April 1987 to 1996 |
| West Bengal | ISKCON Mayapur | 2 weeks: Nov. 1994 |
| 2 – Mauritius | Local temples | 1986, 1995, 1996 |
| 3 – Guyana | Local temples | 1988, 1989, 1990, 1991, 1993 |
| 4 – U.S.A. | PY America (Abhay das, Jad Bharata das) | 1989 |
| | PY America (Badarayani das) | Beginning 1990 |
| | PY America (Saunaka das) | 1990, 1993 |
| 5 – Mexico | PY America (Abhay das) | Sept. 1989 |
| 6 – Belize | PY America (Saunaka das) | Dec. 1991 |
| 7 – Ireland | Parasuram dasa | May 90 |
| 8 – Italy | Villa Vrindavan (Madhu Mangal das) | 1992 |
| | Villa Vrindavan (Garudatmika das) | 1993 – 1995 |
| 9 – New Zealand | Local temples (Yasodadulal das) | 1991, 1992, 1994, 1996 |
| 10 – Trinidad | Local temple | 1991 – 1996 |
| 11 – U.K. | PY Europe and Parasuram das | 1991 – 1996 |
| 12 – Holland | PY Europe and Brahmaratha das | 1990 |
| 13 – Belgium | PY Europe and Niramaya das | July 90 |
| 14 – France | PY Europe and Sundar Gopal das | Aug. 1991 |
| 15 – Malaysia | Local temple (Simhesvar das) | Dec. 1991 |
| 16 – Philippines | Local temple (H.H.Giridhari Swami) | Jan. 1992 – 1996 |
| 17 – Fiji | Local temples (Jagannath das) | 1992, 1995, 1996 |
| 18 – Australia | Local temples (Venu Gopal das) | 1992, 1996 |
| 19 – Guatemala | PY America (Saunaka das) | Jan. 1992 |
| 20 – Nepal | Local temple | April 1992 |
| 21 – El Salvador | PY America (Saunaka das) | April – June 1992 |
| 22 – Spain | PY Europe and Yadunandan das |  May 1992, 1996 |
| 23 – Honduras | PY America (Saunaka das) | Aug. 1992 |
| 24 – Nicaragua | PY America (Saunaka das) | Aug. – Sept. 1992 |
| 25 – Switzerland | Local temple | June 1992 |
| 26 – Canada | Local temple (Vipramukhya Swami) | 1992, 1996 |
| | Bhaktimarga Swami | 1996 |
| 27 – Russia | Parasuram das | May 1993 |
| 28 – Costa Rica | PY America (Saunaka das) | Sept. 1992 |
| 29 – Panama | PY America (Saunaka das) | January 1993 |
| 30 – Sweden | Parasurama das and Sri Jayadeva das |  June 1993 |
| 31 – Czech Republic | PY Europe, Turiya das & Raja Rama das | July 1993, 1996 |
| 32 – Greece | PY Europe (Ekanath das) | August 1993 |
| 33 – Macedonia | PY Europe (Ekanath das) and Atmabhu das | 1993 |
| 34 – Estonia | Parasuram das | 1993 |
| 35 – Latvia | Local temple and Parasuram das | 1993, 1995, 1996 |
| 36 – Lithuania | Parasuram das | 1993, 1996 |
| 37 – Luxemburg | Parasuram das and Ekachakragram das | Sept. 1993 |
| 38 – Georgia | Parasuram das | 1993, 1996 |
| 39 – Brazil | Local temples (Jagad Vichitra das) | 1994, 1996 |
| 40 – Germany | Local temples (Arjuna das) | 1994, 1996 |
| 41 – Croatia | PY Europe and Purujit das | May 1994 |
| 42 – Slovenia | PY Europe and Uddharta das | 1994, 2002, 2003 |
| 43 – Serbia | PY Europe and Atmabhu das | 1994 |
| 44 – Hungary | PY Europe and Syama Gauri dasi | 1994 |
| 45 – Slovakia | PY Europe and Raja Rama das | 1994 |
| 46 – South Africa | Local temple | 1994 |
| 47 – Finland | Parasurama das | 1994 |
| 48 – Austria | PY Europe (Ekanath das) | 1994 |
| 49 – Bangladesh | Local temple (Deva Dinadayal das) | 1995 |
| 50 – Portugal | Parasurama das | May 1995 |
| 51 – Poland | PY Europe and Subhadra dasi | July 1995 |
| 52 – Denmark | Laksmisurya dasi and Parasurama das | July 1995 |
| 53 – Norway | Parasurama das and Sri Jayadeva das | 1995 |
| 54 – Iceland | Parasuram das | July 1995 |
| 55 – P.N. Guinea | PY Autralia (Ramai Swami) | July 1995 |
| 56 – Solomon Islands | PY Australia (Ramai Swami) | July 1995 |
| 57 – Vuanatu | PY Australia (Ramai Swami) | July 1995 |
| 58 – Ukraine | PY Europe (Ekanath das) | 1995 |
| 59 – Moldavia | PY Europe (Ekanath das) | 1995 |
| 60 – Cyprus | Parasuram das | 1995 |
| 61 – Israel | Parasuram das and Ishvara Krishna das | Sept. 1995 |
| 62 – Lebanon | Parasuram das | 1995 |
| 63 – Palestine | Parasuram das | 1995 |
| 64 – Egypt | Parasuram das | 1995 |
| 65 – Monaco | Devarshi das | 1995 |
| 66 – Bulgaria | PY Europe (Ekanath das) | 1995 |
| 67 – Romania | PY Europe (Ekanath das) | 1995 |
| 68 – Ghana | Local temple | 1995, 1996 |
| 69 – Pakistan | Local temple and Amogha Lila das |  Feb. 1996 |
| 70 – Bielorus | PY Europe (Ekanath das) | 1996 |
| 71 – San Marino | Parasuram das | 1996 |
| 72 – Malta | Parasuram das | 1996 |
| 73 – Tunisia | Parasuram das | 1996 |
| 74 – Japan | Local temple (Jayananda das) | July 1996 |
| 75 – Liechenstein | PY Germany (Arjuna das) | 1996 |
| 76 – Zimbabwe | Local temple | June 1996 |
| 77 – Andora | Parasuram das | July 1996 |
| 78 – Saint Vincent | Rajarshi das and Mandakini dasi | July 1996 |
| 79 – Santa Lucia | Rajarshi das and Mandakini dasi | July 1996 |
| 80 – Grenada | Rajarshi das and Mandakini dasi | July 1996 |
| 81 – Surinam | Local temple | August 1996 |
| 82 – Kazakstan | PY Asia (Ekanath das) | Sept. 1996 |
| 83 – Kenya | Local temple and Parasurama das | 1996 |
| 84 – Uganda | Parasuram das | 1996 |
| 85 – Zambia | Parasuram das | 1996 |
| 86 – Malawi | Parasuram das | 1996 |
| 87 – Tanzania | Parasuram das | 1996 |
| 88 – Boswana | Parasuram das | 1996 |
| 89 – Kyrgizstan | PY Asia (Ekanath das) | 1996 |
| 90 – Uzbekistan | PY Asia (Ekanath das) | 1996 |
| 91 – Tadjikistan | PY Asia (Ekanath das) | 1996 |
| 92 – Turmenistan | PY Asia (Ekanath das) | 1996 |
| 93 – Azebaijan | PY Asia (Ekanath das) | 1996 |
| 94 – Jamaica | PY America (Saunaka das) | Oct. 1996 |
| 95 – Saint Martin | PY America (Saunaka das) | Oct. 1996 |
| 96 – Nigeria | International West African PY | Oct. 1996 |
| 97 – Benin | Local temple | Oct. 1996 |
| 98 – Togo | Local temple | Oct. 1996 |
| 99 – Argentina | Local temple (Rupa Raghunatha das) | Nov. 1996 |
| 100 – Cuba | PY America (Saunaka das) | Dec. 1996 |
| 101 – Peru | Local temple | 1996 |
| 102 – Ivory Coast | PY West Africa | 1996 |
| 103 – Guinea | PY West Africa | 1996 |
| 104 – Sierra Leone | PY West Africa | 1996 |
| 105 – Dominican Republic | PY West Africa | 1996 |
WALKS ORGANIZED AFTER 1996
| | | |
| --- | --- | --- |
| Country | Organizers | Duration and Year |
| Padayatra India | Sanak Sanatana das | 1997 to 2000 |
| | Istadeva das | 2000 to 2003 |
| | Rupa Goswami das | 2003 onwards |
| Dindi yatra (India) | Maharashtra temples | 18 days: July 99 |
| Orissa (India) | ISKCON Bhubaneswar | annual walk: 97 to 2003 |
| Gujarat (India) | Inspiration: Bhakti Vikasa Swami | 97 |
| Tirupati (India) | Tirupati temple | 2002 |
| Maharashtra (India) | Aravade temple | 2002 |
| VMP (India) | Parasuram das | 2002 up to now |
| Argentina | Rupa Raghunatha das | 97 |
| Switzerland | | Aug and Sept 97 :10 days |
| Holland | Ekacakragram das | 10 days in July 98 |
| Italy | Villa Vrindavana temple | Oct 97 and July to Oct 98 |
| Russia | Rajarama das and team | May 9th to June 24th 1999 |
| Russia | Nimi das | 4 to 5 months every year: 1998 up to now |
| Ireland | Parasuram das | 6 weeks in 97 and 2 weeks in July 99 |
| UK | Parasuram das | PY cart parade in London in 97 |
| Mauritius | Yatra | April 11-19 and Oct 5 to 19th 99 |
| Germany | | 10 days around Lake Constance |
| Czech Republic | Rajarama das | June 1st to Aug 99, summer 2004 to 2006 |
| | Muni priya das | Yearly summer walk from 2007 up to now |
| Hungary | | July 1998, 2003 |
| Madagascar | Mauritius yatra | Oct 99 |
| Rodriguez Islands | Mauritius temples | 2 weeks: 1997, 10 days: 2002 |
|  Reunion (French Territory) Mauritius temples | | April 96 and Sept. 2003 ? |
| USA to Mexico | Avadhuta Siromani das and Candrabhaga dasi | May 2003 to 2004 |
| Canada | H.H.Bhaktimarga Swami alone | 5.5 months in 2003 |
| Slovenia | Slovenia temples | Yearly summer walk from 2002 up to now |
| Slovakia | | Summer 2007 |
2003  SANNYASI REPORT BY HIS HOLINESS BHAKTIMARGA SWAMI
In 2003 Canada was truly plagued by several challenges, such as SARS in Toronto, West Nile virus in Saskatchewan, mad cow disease in the Prairies, and intense forest fires and subsequent floods in British Columbia. These onslaughts made it somewhat favourable for Krishna Consciousness outreach. In fact, they didn't deter me at all from walking those sections of the country on a second cross-nation walk.
What was accomplished with the walk? Here are some figures:
In 5.5 months I walked 7,194 kilometers through 10 provinces in all kinds of weather and nature's moods. I used up 4 pairs of shoes and 4 dhoties & kurtas and lost 11 kilograms. I reached out to millions of people through the media — newspapers, television, radio, and word-of-mouth.
Although Canada is a large country in terms of land mass, the population is relatively small at 31 million. I passed through 87 cities and 347 towns and villages. The rest was open plains, mountain ranges, muskeg, farm country, rolling hills, and hundreds of kilometers of the world's oldest rock regions, the Canadian Shield.
I saw much wildlife, alive and dead, including moose, deer, elks, antelopes, cougar cubs, mountain sheep & goats, wolves, coyotes, raccoons, beavers, squirrels, birds of all kinds, snakes, and salamanders. I managed to help a large turtle cross the Trans Canada Highway by stopping traffic. I also saw millions of grasshoppers, black flies, deer flies, and horse flies and trillions of mosquitoes, who were very thirsty. No bears — only footprints — and lots of dung.
Among humanoids I met indigenous people, professors, teachers, clergy (Christian, Hindu, and Buddhist), motorcycle gangs, army officers, farmers, truckers, fishermen, miners, factory workers, business-folk, road and building construction crews, the homeless, the young, and the old. I made friends with them all.
What did I learn? Detachment, appreciation for Srila Prabhupada, appreciation for Krishna, vista energy, appreciation for the rhythms of life and the hand of God in many things.
A high point was giving a big hug and a loud "Hare Krishna" to a drunk on the road.
A low point was getting lost for hours and being without devotee association.
I feel physically strong and spiritually more tuned. I avoided illness altogether. I learned that people like us, that they have at least become tolerant, and that the image of a monk is "cool". I had to clarify many, many times over that I'm not a Buddhist monk, "I'm a Hare Krishna monk."
Conclusion: I love it out there on the open road, and I have more or less chalked out a new route through Canada for a third walk. It is a freeing feeling out there. I'll walk and chant until I drop.
5) A PREACHERS' PARADISE
Every movement and every moment is preaching
Padayatra is a truly a preacher's paradise, as  H.H.Lokanath Swami explains it, " Every movement of a padayatri's life is preaching. He is constantly mingling with and helping the conditioned souls, establishing rapport with them and trying to understand their problems. Because he is living with the people, he becomes aware of their suffering and thus, both his compassion as well as his seriousness in practicing spiritual life are increased a thousand-fold. Srila Prabhupada always encouraged his sannyasi disciples to travel and preach. He emphasized this aspect of a sannyasi's duty many times."
On Padayatra, the preaching is not restricted to sannyasis, all the Gaura bhaktas can participate to their heart's content,  from the youngest to the oldest, from the new bhaktas to the most advanced devotees. Even children have their place; they love to distribute books, pamphlets and prasadam and help around. Teen agers looking for their place in life and the devotees' society fit nicely in that kind of preaching  program as they can experiment with a variety of activities and services in a congenial  environment.
A most effective preaching tool
The Padayatra  formula has proved practical and successful all over the world, in poor countries and affluent ones, in rural settings or congested cities. It is nothing new really, just a combination of  harinam, prasadam and book distribution, all ingredients that Srila Prabhupada stressed again and again. These spiritual staples are harmoniously blended in the Padayatra transcendental pot,  with the added flavor of the festivals, the spicing of the bullock carts,  and the topping of Gaur Nitai's murtis. The result is deliciously tasty, truly out of this world! It is communication non-stop, with the people in their homes or  on their doorsteps, with the media, TV, radio and newspapers. There is abundant and  positive media coverage, without too much effort or expenditure!
There are  financial advantages as well. For our Hare Krishna festivals in the Indian cities, the temples spend months and months advertizing along with hundreds and thousands of rupees, just to get a few hundred people. But  in the villages they come uninvited, every single day in thousands. And they are willing to sit tight and hear everything the devotees have to say.
A vision from  the spiritual world
It's not every day that an Indian-temple-shaped-cart pulled by two oxen, surrounded by dancing people dressed in unusual clothes and singing strange hymns, passes through your local high street or through your village. Truly out of this world. The experience of a British lady during the 1991 walk in UK is very significant in that regard.  As she was relishing a "simply wonderful" sweet,  she asked the  devotee who gave it to her,  " Where are you from?". The reply that they were an international group did not seem to satisfy her, and she continued gazing at the amazing sight before her., "Oh sorry, we come from Newcastle and we've been travelling along…", added the  devotee.  "No, no, she was saying, "Where is this coming from? I mean it's not from this place, this planet. It's something I've never experienced before!" She kept on saying, "It's beautiful, it's wonderful!"  The sight of  the effulgent devotees, the huge and peaceful bulls, and the wonderful  smiles of mercy and compassion  of the Deities,  was indeed not of this world. This lady was seeing the  spiritual world and  her face seemed to take  on childlike features.  The people  observing the amazing Padayatrascene are in fact getting a glimpse of something they've been hankering for and of what they will be doing sooner or later, one lifetime or another.
Touching people's heart
Brighupati das, who participated in the New Zealand walk, stated that we can preach more by just being a happy family enjoying each other and what we are doing than by what we say. If someone gets a good feeling about  a person or a group of people, although he may not perfectly understand their philosophy, still he becomes inclined towards them. When the heart is somehow touched with contact with the devotees of Krishna, that is the beginning of auspicious life and devotional service.  People make friendship with the devotees, commend them for their good work, and come forward to render all kinds of services.  Padayatra catches the heart of people very deeply, and after having spent a few days with the devotees  it is not rare to see them crying  when the padayatris leave.  One old lady in England wanted to join the party, but because of her age she sorrifully had to decline.
Clearing up misconceptions about ISKCON
Padayatra is helping to clear up various misconceptions people may have had about ISKCON,  by giving them first-hand information about its members. They can see who the devotees of Krishna  are, what they look like, what they believe in, what they eat, how they worship, raise their children, treat their animals and what they do for fun.  Some people in India were accusing ISKCON of being an organization for rich city people, but when they saw the devotees walking through the countryside, satisfied with the accommodations and food offered by the villagers and working hard to spread Krishna Consciousness, they realized that devotees are genuinely interested in the welfare of all the people. Others thought that ISKCON devotees were idle hippy types,  but when they saw the devotees happily  following the four principles and always chanting the holy names, those same people could understand that this is a serious movement.
Personal contacts and the amazingly positive media coverage generated by Padayatra is contributing to gaining a good name for ISKCON  in many countries. When French people personally met the infamous and dangerous Hare Krishna "sect" members, which the media had  warned them against for more than a decade, they usually found them friendly, happy and open. Because devotees had several castles for temples, they were portrayed as living too lavishly for spiritualists. Seeing them walking all the way to Moscow with a bullock cart, living in army tents, braving cold and rain, certainly helped erase part of the ignorance and misconceptions, which are the root cause of prejudice to  those who are considered "different".
Welcomed by mayors and VIPs
The spectacular aspect of Padayatra makes it easy to meet and invite  officials and important personalities. Enthusiasm from mayors and officials reached its peak in New Zealand, so much so that the devotees  jokingly talked about the new bhakta -mayor making program. Response from all the district and city councils was overwhelming; they all included Padayatra, which they called "The Travelling Peace Festival", into their summer activities. Councellor David Cox spoke thus about the devotees: "They are certainly respected here in Christchurch for their involvement in the community. They are respectable citizens. Some groups are sectarian and keep themselves isolated, but the Hare Krishnas don't; they extend themselves throughout the community. Their Food For Life program and educational facilities are valuable contributions. They are loving and fun-loving people. "
New Zealand's Ministry of Education also worked with the organizers so that Padayatra could visit the schools.  The devotees were able to  perform dramas, chant and distribute prasadam to thousands of school children. The walk created such a positive impact in the country that soon afterwards the devotees were able to successfully apply for government grants, having gained much credibility through the many friendly contacts with officials and the favorable newspaper articles generated by the Padayatra walk. The fabulous response of the public in New Zealand confirms what Srila Prabhupada used to often tell his followers, quoting his own spiritual master, "Never worry about money, just preach very enthusiastically and money will come looking for you and falling at your feet."
Reviving India' spiritual culture
Srila Prabhupada told the devotees that if there is any civilization left anywhere in the world, it is in India. Most Indians in the villages still retain a simple faith that their present suffering is due to the karma of their past lives. They are all originally Krishna conscious and with a little chanting and taking prasadam, their material covering can be removed. The padayatris in India experienced this every day as they  walked  through the villages. The villagers are very humble and kind and take to the chanting very easily. They host the devotees willingly, feed the bulls and happily participate with the  program in the evening.  But they are also very confused and misled by the materialistic government and by heavy mayavadi philosophy. They are taking up sinful activities more and more, cheaply imitating the West.
With the advance of Kali Yuga, people are less interested in spiritual topics. As Jayadvaita Swami wrote in one BTG article, "Even in small villages they want the cinema – heavy punches, hot kisses, broken hearts and murders. Indian people are deeply impressed to see Western men and women who have left the very society and value system that India is trying to imitate. Indian people who see foreigners practising Krishna consciousness strictly and sincerely are shocked into reviving their faith and interest in their own religion and culture. Many for the first time understand the true purport of the scriptures, they  become familiar with unalloyed devotion to Krishna, the Supreme Personality of Godhead, and they feel inspired to change their lives by chanting Hare Krishna."
Making long time friends
Srila Prabhupada once said there are devotees waiting at every street corner. They're just waiting for a devotee to come by and reconnect them with Lord Krishna. Many such encounters take place on the road, as the party of Lord Caitanya is attracting sincere souls for a few hours, a few kilometers, a few days,  the duration of a festival,  and sometimes for more than that. According to Parasuram das, the relations developed with their Irish hosts were not superficial, they made lifelong friends. After corresponding with the persons who helped and hosted the party, and  all wanted them back, he  felt very inspired to go around the country again.
In 1999, Padayatra organizers in Argentina and Brazil  decided to  slow the pace of the walk for the sole purpose of having time to establish friendly relationships with the people they met while travelling.
When Krishna sent them favorable people, they agreed with them to organize programs in their house, and  from these programs others would come. The devotees  would stay for a few weeks in the same place, distribute books, make TV and radio appearances and establish a nama-hatta base.
Bhakta recruiting and training program
In 1990 in Ireland the devotees made  two new bhaktas who decided to  join a temple soon after.  In Mexico, Alberto and Ricardo joined the sankirtana party on the road. The fact that Alberto was personally active as a Christian helped him convince others of the books, and he had huge success right away in book distribution.  Padayatra New Zealand made  eight new devotees in two and a half months.
For Ekalavya das, Padayatra was his formative years. "Before joining I was a world traveller, musician, constantly travelling, he recalls. When I joined at the Bhaktivedanta Manor I was mainly doing services inside the temple. Our bhakta leader took us all on Padayatra England, as part of our training. I was back in my element, singing, travelling, playing music, seeing the world. It was my first preaching experience. Even a new bhakta could fully taste the nectar of giving  Krishna consciousness to others, which is the higher taste."
6) FEELING THE PRESENCE OF SRILA PRABHUPADA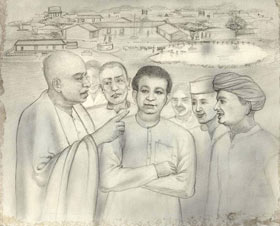 Even though "Hare Krishna" has become a household word in many parts of the world, Srila   Prabhupada,  the pure devotee who introduced millions of people to the Supreme Personality of Godhead and His holy name, still remains little known to the general public. Out of humility, our
founder-acarya never wanted to put himself forward. The padayatra program that he established is a very good opportunity for his disciples, grand-disciples and followers to introduce this  great vaisnava saint to the masses. Without a doubt this will be very pleasing to the Lord. The presence of Srila Prahupada in his murti form on the Padayatra cart makes this introduction mandatory. Devotees travelling with a visible form of Srila Prabhupada may have big surprises in store. Who knows when they will witness that the less unlikely people recognise and honor Srila Prabhupada, like one young British punk rock girl, who unexpectedly refered to Srila Prabhupada  as "His Divine Grace", surprising all the devotees.
EXPERIENCING THE PRESENCE OF SRILA PRABHUPADA
Even mafiosos feel his presence in his murti form
On Padayatradevotees live with the murtis all day long, which gives them a chance to develop a more personal relationship with Them, and serve Them more intimately. When there are no other murtis, Srila Prabhupada  is treated in an even more personal way. Devotees  bring him  to sit with them near the camp fire or when prasadam is being served and make him participate in all the day's activities. Srila Prahupada is indeed present in his murti  form, as his reciprocation with the devotees and the public attest.
So many times people think that  Srila Prabhupada is alive. They are wondering  why he is not talking, answering them, eating or moving. Sometimes they  come and grab him, wanting to see him move, as they are convinced he is alive, or they become   attracted by his serious mood. Indian villagers stand in front of him wondering:  'Is it a man? No, it is not a man' (Adami he? Adami nahi he). 'Is it a man? No, it is not a man' (Adami he? Adami nahi he). They go on like that, back and forth, unable to decide if it is a murti or a real person.  As the devotees  were travelling through the forest in Bulgaria, mafiosos attacked them  with guns. They wanted to shoot Srila Prabhupada  first as they were convinced that he was alive.
The value of catching a glimpse of a pure devotee
Gangamayi dasi, an American disciple of Srila Prabhupada who participated in Padayatra Europe, is convinced of the lasting value for the public of catching even a little glimpse of a pure devotee.
She recalls the time when Prabhupada was staying  at the Manor in London for three months in September, 1975.  He was going on a japa walk every day through the neighbouring fields, which later became known as "Prabhupada's fields" and then as "Prabhupada's Park". Once in St Jame's Park, Prabhupada passed a tramp sleeping on the benches. He looked up quite shocked to see such a resplendent personality, stared for a  minute, then covered his head and went back to sleep. With a simple glimpse at the form of a pure devotee, his spiritual life then began, even if it remains dormant for many life times – Krishna remembers. There is just no way to say how many souls have been touched and affected by seeing and touching the murti form of our paramahansa devotee on the Padayatra cart, what to speak of offering him respect, receptions, garlands, flowers and laksmi.
Prabhupada is enjoying himself on the road
In Italy a humorous incident took place centered on his murti. Once padayatris were walking and dancing blissfully along the road in an Italian suburb, when suddenly two tough-looking police officers began yelling, "You are the cause of a traffic jam. Who gave you permission to do this? Where are your documents?" The devotees showed their documents, but one of the officers said, "One document is missing, where is the other one? Where is his document?" as he pointed to Srila Prabhupada's murti on the cart. A devotee tried to explain that, actually, Prabhupada was there and at the same time was not there. So one policeman went towards Prabhupada to ask for his document, but he did it by going between the cart and the oxen. At this point the faithful ox had a call of nature and let it fall on the ground right next to the exasperated policeman, spattering his pants. There was a few seconds of panic, but finally Garudatmika, the oxen caretaker, said, "Don't worry, it brings good luck." At this, the policeman surrendered and said, "All right, I really hope so," and burst into laughter. With no further harassment the padayatris continued." Srila Prabhupada must have enjoyed that day.
When Prabhupada is pleased, everybody is happy
Tribuvanath das, Padayatra organizer and staunch Prabhupada's disciple, commented after the success of the first walk in Ireland:" You know when something is pleasing to Srila Prabhupada because  everybody is happy". The devotees were certainly very happy, and many conditioned souls got a taste of transcendental happiness by getting in contact with the blissful  representatives of the Lord, chanting and dancing exhuberantly in this war-torn country.  Many padayatris noticed that Srila Prabhupada's murti and the Deities looked very happy when the preaching was going strong, but They were sad when the devotees fought and quarrelled.
Parasuram das explains what keeps him on the road, organizing one walk after another: "What do we get out of this service? We know that Srila Prabhupada is awarding many blessings. After a day of distributing 10,000 books and tons of prasadam  we show the Prabhupada movie to 10,000 people, and the bulls are there with the stars in the sky, everything becomes peaceful. We are sitting outside by candle light, as they are lighting Gaur Nitai, sipping hot milk. Then you have a nice feeling of closeness to Prabhupada, you feel you've done something, you made spiritual advancement, you feel your heart softening a little bit."
Padayatris united around Srila Prabhupada
Ekanath Das, leader of Padayatra Europe for many years, has strong realizations about the potency of Srila Prabhupada: "The devotees in the waks through Europe  were coming from so many diverse cultures and backgrounds. Even though they had very different personalities, they all became attracted and convinced by Krishna consciousness, not only by Krishna consciousness, but by Srila Prabhupada's presentation of Krishna consciousness.  Despite their diversity of characters, they all had something in common, they were all very much attached to Srila Prabhupada. This gave me a lot of faith in this ISKCON movement,  seeing that it is  a real spiritual movement, united around Srila Prabhupada, its founder-acarya."
7) REALIZATIONS FROM LEADERS AND PARTICIPANTS
The simple gesture of pilgrimage needs rekindling
H.H.Bhaktimarga Swami: "Our modern world is clouded in shadows of monetary passion resulting in unfulfilled lives. The simple gesture of pilgrimage (walking and chanting), a thing of the past, needs rekindling."
Padayatra is the right therapy for all the devotees who need a break
H.H.Jayadvaita Swami  (Padayatra India organizer during the 1984-1986 walk): "Padayatra is good for anyone who is  feeling disgusted in ISKCON, is tired of politics and wonder what they are going to do next –  "bloop", go back to their mother, go back to  school,  forget all about it all and join the army…whatever it is.  I recommend this program for devotees  who  are in between engagements, have time available, feel in a rut, overcome with material desires or material contaminations, realize that their  Krishna consciousness is going down or find all their relationships are a mess. My advice to them is, 'You just need some good therapy. Just go for a long walk on Padayatra,  chant Hare Krishna and tire yourself out.  At the end of the day, sit and do a little reading, take your bath in the river or pond.  You can just have a good time, don't worry about politics…just chant, walk , visit holy places and your biggest preoccupations can be how many kilometers the walk is, and when is  prasadam and how to keep all these people from pouring kum kum and turmeric all over your feet.'  Padayatra is just a wonderful program for anyone who needs a break from everything else!"
People's consciousness become affected
H.H.Sivaram Swami: "One may question whether such efforts in terms of manpower and finances may be invested in larger population centers. But as we mentioned before, that is what we have been doing for the past twenty years. And who can estimate the potency of the holy name? By distributing transcendental sound vibration throughout the geography of the country, the ether becomes purified and people's consciousness, whether knowingly or unknowingly, will become affected."
Padayatra was like a positive spiritual infection
Krishna Caitanya Das (then President of Villa Vrindavana , Italy):"The achievements are wonderful; Padayatra was like an infection, a positive spiritual infection, which would bring about a very change in the devotees' consciousness. I saw men coming back from Padayatra inspired and rejuvenated spiritually, having experienced a real constant preaching program and learned new ways to distribute books."
Seeing the Lord's prophecy fulfilled
Kalasamvara Dasa (Temple President of Christchurch, New Zealand): "Five hundred years ago, Lord Caitanya predicted that in every town and village His name would be heard! On Padayatra we can see this prophecy fulfilled as we travel from town to town preaching the glories of the holy name. Surely Lord Caitanya was pleased by this wonderful preaching spirit, and all His blessings are upon us. When one remembers the lotus feet of Gauranga, that which is difficult becomes easy. We are experiencing amazing success, just by surrendering  to the desire of Srila Prabhupada and the Lord."
The  holy name has more potency that I could ever imagine
Radhakunda das: "One night while walking through a village of orange workers in Belize, in Central America, many kids gathered to hear us chant. It was our practice to stop and take the time to make sure that everyone at least could repeat the maha-mantra. These kids had learned the maha-mantra, Govinda jaya jaya, and Nitai Gauranga, and they just would not let us stop. Finally I walked away, giving  the excuse that I was thirsty. The kids got me water and wanted us to keep chanting. They surprised me. I felt ashamed that I had so little faith in the holy name. The holy name has more potency that I could ever imagine."
Nitai Gaurasundara are in control, not the Padayatra managers
Ekanath das (Padayatra Europe leader): "The deities of Nitai Gaurasundara  give lots of mercy. Through serving Them, They showed me that They are the supreme controllers and that I had very little control over what was going on. One clear message was: "If Their Lordships Sri Sri Nitai Gaurasundara desire to do anything or go anywhere, there is not anything or anybody, any army, any organization, any police that can stop Them to do what They want to do. This I have seen. On the other hand if They choose not to go or do anything, there is nothing the managers can do to arrange things in such a way."
When the Lord wants something….
Ekadasi das: " When I left alone for Greece to prepare for the arrival of Padayatra there, Ekanath Prabhu gave me a photo of Sri Sri Nitai Gaurasundara. On the back he had written, "To Bhakta Edwin Prabhu, remember, if They are desiring to go somewhere or do something, there is not a thing that anyone can do to stop Them, and he had underlined "anyone". Having never been to Greece before, I was cautioned by the devotees that devotees had been beaten up by fanatic orthodox Christians and thrown out of the country before, but I went ahead anyway. The Padayatra in Greece turned out to be one of the most successful in Europe. It was touching to see so many people coming to us in ecstasy wanting to serve the devotees. They were running out of their houses, sometimes crying with joy to see the Hare Krishna devotees coming along with kirtan and bringing the Lord to their village. We never expected such a reception. Even the state police came forward to assist us in many ways. This is all the mercy of Sri Sri Nitai Gaurasundara."
People are influenced by this powerful message
Parasuram das:" Every evening on the Vraja Mandala Padayatra in Kartik we showed the assembled villagers  a special movie about cow protection in Vrindavana. It is very necessary because all the male cows in Vrindavana        and  Govardhana have been slaughtered for the leather industry, as India is a big exporter of leather. The movie was  showing how the cow was being killed, and people were shocked;  they know they are going on by trucks, but the movie was showing what happened afterwards.  They do not really realize what  a sin it is to kill cows. We showed them that by doing such activities people would suffer droughts, earthquakes, etc. After that we presented another film, a 50 minute version of Prabhupada's life.  People were very impressed.
Every year we go around the same way and we find that people become more and more respectful. Upon seeing Westerners driving a bullock cart  and  being happy in this rural environment, the local people appreciate better their own village life in the dhama. In  the small books we distribute we ask them to protect the cows and the environment, not to chop down the trees, to worship Krishna, to  be happy in Vrindavan and forget the West. People are influenced by this powerful message."
My worse day on Padayatra
Saunaka das (Padayatra America leader):  "Once in Belize I was  walking with only another devotee in a jungle area on the dirt  road going the whole length and breadth of the country. As it started to rain very hard,  we put all our belongings in plastic bags. Then the puddles got bigger and bigger until the whole road looked like a river, and it was getting darker and darker. We asked a few people if we could stay with them,  but they all refused. We could not even see the road and we could hardly walk. Soaking wet in that pitch dark jungle, we were going through so many variegated emotions and  levels of consciousness, intense distress, elation, and a mixture of both. After a few hours we just did not care anymore, we were feeling  so blissful. Finally at 10 pm, somebody picked us up in his truck and took us to his newly-made house. There was nothing inside, just a dry floor. The next door neighbour gave us some burlap sacks to sleep on and change into, and we handed him our soaking wet clothes. The man gave us hot tortillas and beans, it was wonderful! As the sun was shining,  we spent the entire following day going  to people's home. We  just showed them our improvised  little Padayatra pamphlet and everybody gave a local dollar – the equivalent of US 50 cents. It was so blissful."
I have seen  miracles on Padayatra
Ekanath das: "I've seen miracles on Padayatra. I've seen devotees walking all day long in the pouring rain or in the heat wave, and in the evening they are ecstatic,  chanting Hare Krishna and dancing. I remember the intense heat wave in Italy in 1994. Devotees were doing nirjal  for Bhima Ekadasi,   not even eating or drinking, and after the 20 km walk, they arrived chanting and dancing, completely  ecstatic, not wanting to stop the kirtan. »
Padayatra has some avadhuta quality
Yasodulal das (Padayatra New Zealand leader): " One of the biggest realizations I have is that we really get the mercy of Caitanya Mahaprabhu on Padayatra. As we go through every town and village, He opens up the storehouse of love of God, the mercy of Caitanya Mahaprabhu really begins to flow and He reciprocates with the devotees, revealing the transcendental madness of Nityananda. Padayatra has got some kind of avadhuta quality."
Gaur Nitai entering people's hearts
Indulekha dasi (Slovenia): " People liked the Deities. They took the mood of the devotees and they could see it was a very pure and spiritual thing, they could feel the vibration, even if they did not know who They were.  Somehow they could not resist the Deities, they accepted Them, were attracted and  Gaur Nitai entered their hearts, engaging them in devotional service. "
Being in two worlds at once
Shyam Priya dasi (UK):" Being on Padayatrawas like flying in the sankirtan party of Lord Caitanya. In my mind it was always colorful, even though things may be dull all around. I felt  in two worlds at once, the material world  that we see around, and the world  within. It's a very transcendental activity."
8) POEMS AND SONGS
THE BEGINNING IS YET TO START!
by Jaya Vijaya das
Believe it or not! Nasik Kumbha Mela is here!
24 hours of non-stop spiritual and some material activities;
All night harinam-kirtan broadcasting loudly away;
Every type and kind of sadhu is wandering around;
So many passing here, there and everywhere!
A constant surcharged energy emanating;
Sometimes resulting with the Lord's blessing;
Other times ending with fighting arguments;
ISKCON's camp is always swarming with pilgrims;
Lord Jagannath captivating everyone's heart;
Nitai-Gaurasundar constantly bestowing Their mercy;
Food-for-Life satisfying the endless queue;
One rupee books being distributed left and right;
Aratis, kirtans, pravacans, dioramas, laminations, cinema,
And of course Padayatra sobha-yatras are all there.
Preaching is certainly the essence,
Satisfying the devotees' heart,
And pleasing the happy sadhu or pilgrim.
So much more can be done,
And it could have been earlier,
But we are hoping that Srila Prabhupada,
And the devotees are happy,
With our small humble efforts.
The beginning is yet to start,
But again, it has already started!
Slowly, the crowds will grow and soar,
Making more demands on our services
Just to spread the Holy Name around….
FOOD FOR LIFE
by Jaya Vijaya das
Hours spent planning
purchasing and arranging
then where to cook it all up!
From village to village, district to district
all the cooking utensils happen to be there…
Not just plain simple prasadam
but rich, sweet, tasty, hot halva!
Which certainly hits that spiritual spot
especially during these winter months…
The men, women and all the children
anxiously await receiving that scoop!
Then sitting right down
just in time for that ISKCON film…
When it's all over
even the dogs, pigs and tonight, one cow!
Enjoying the remnants left behind
when that last reel is over…
Svetadvipa Prabhu is working hard
cooking up that "Food for Life!"
Knowing it's pleasing Srila Prabhupada
as well as all the padayatris…
Please keep it coming
all you donors out there
India-Food-for-Life
is so successfull!
It's beyond compare!!!
SWEET BURFIJI
Jaya Vijaya das
We are all relaxing and absorbing
the cool, peaceful place
that Mahaprabhu has graciously
bestowed.
No public tonight;
National Highway at a distance,
just the crickets rubbing their legs
and the new moon settling down.
But wait, one very important anxiety,
our dear loving, long time
"Sweet Burfiji" is leaving his body…
He just sits and waits, nothing else.
Time is slowly eating away his life
that was filled with glorious service.
It's sad observing
such a compassionate soul
loose contact with the outside world.
He's lost that sweet licking love
that made him famous!
Oh dear Burfi,
where will Krishna send you?
We certainly pray it will be next to Him
continuing with your loving devotion
that is hard to match.
Seven years came, seven years went,
and I doubt there will be another.
You are one-of- a-kind,
Oh dear sweet Burfiji!
(Jaya Vijaya wrote this poem the night before Burfi passed on, Oct 11th 1991.)
THE PADAYATRA SONG
Pack yer bags, pack yer beads
Bring yer wellies too
What do you mean, you haven't heard
It's the latest news
We're going on Padayatra
To spread the holy name
What! You can't make it
It really is a shame.
The bags are packed, the tickets brought
The kids are on the van
Tribhuvanath is shouting
We'll hit the traffic jam
Where' you put the tickets
They're in the other coat?
Sorry! Too late, you'll have to miss the boat.
Chorus
We're going on Padayatra
     Fulfilling Srila Prabhupada's dream
In every town and village
     You'll hear the holy name
From Lord Caitanya's "Padi" team.
Sleeping at the camp site
To catch tomorrow's boat
Everyone's excited, soon we'll be afloat
Madan Gopal showering
In bliss serenity till someone shouts
It's time, move out,
No time to drink yer teas.
Out on the fly fields
Down at Wickerlow
Crying to eat prasadam
At least we're having a go.
Moksa's losing weight so fast
She says she's feeling funny
She opened her mouth to say watch out
But they flew right into her tummy.
Chorus           
Amekhala's cooking dinner
The horses stand nearby
Smiling at each other
A twinkle in their eye
Our service keeps us busy
Oh dear we fail to see
Hari and Bob scoff the lot
It's bread for you and me.
Prabhupada came with us
Travelling on the cart
Everyone is chanting
Singing from the heart
The sun goes down
And evening falls
Our where's Parasurama?
Shh…you might wake him
He's underneath the cart
Chorus
The tents are up, the kettle on
The kids are making tea
Chanting round the camp fire
In perfect harmony
Doyamoya is smiling
Grinning from ear to ear
He's got the only mattress
On your bike my dear.
Walking in through the country lanes
The sun is beating down
Dancing in the kirtan
Transcendental sounds
I haven't seen a sign post yet
Although we've walked all day
Oh Bejabers,I'm not surprised
It's back the other way.
Chorus
Some say when you're on the road
Life is quite austere
But oh we're eating sweet rice
It's coming out our ears
Who was that, go creeping by
In the middle of the night
Trying to find a hole in the field
It's not a pretty sight.
The people here are very warm
Kind and friendly
They like to bring us bread to eat
For our evening tea
But we've broken all the knives
We'll have to buy some more
It's no good, said Kisore
We'll have to use a saw.
Chorus
All this walking in the heat
Really brings a thirst
We could drink a river dry
Till we're fit to burst
Swimming in the river
Clothes go floating by
Oh no I think he's drowning
It's only two foot high.
Now it's time to go back
We've had a lovely time
The boats are in the harbour
The vans are all in line
The tickets man is coming
Ready to count the heads
Oh no, here we go
Hide them under the beds.
Hide the kids, in the loo
The tickets man is here
We've only got four tickets
There's twenty-five in here
Tribhuvanath is sweating
I hope he doesn't see
I'm doing this for Krishna
Not for you and me.
Chorus     
We're going on Padayatra
     Fulfilling Srila Prabhupada's dream
In every town and village
     You'll hear the holy name
From Lord Caitanya's "Padi" team.
MAYAPUR PARIKRAMA
The silent rising of the sun heralds the start of the day
Colorful flags and attire snake along the narrow road
The patter of naked feet packed upon the dham dust
Kilometer by kilometer gumsha and water our only load
Languages blend in the sound of the Name
Speaker broadcast the sound for each village to hear
Walking to fix the mind on the Lord's lotus feet
Walking our cluttered heads to clear
Put away worries of work to be done
Resting your mind from wars to be won
Thinking of Lord Gauranga relax and have fun
Forget for the moment that your laundries not done
Forget that your toothbrush is stuck in the mud
Forget that the speakers broke your eardrum
Forget that you ache in so many ways
And you haven't slept well for about seven days
Forget all the rickshaws with their loud squeaky sounds
And the buses that blow exhaust in your face
Forget the small stones, which imbed in your feet
Forget that you can't keep down a thing that you eat
Forget its 100 degrees in the shade
And your clothing will never quite be the same
Forget how exhausted you are at day's end
Yet you rush in the morning to do it again
Serving together- we're Prabhupada's clan
Absorbing ourselves in the dust of his words
We can assure that his glories are sung
By assisting each other to further his work
Remember the wonderful devotees you've met
Remember the pastimes you've heard
Remember  the kirtan's you've danced to
And remember the leela's you've learned
Remember how grateful you felt
For the prasad that you received
And how happy you were that each place was set up
So your walking fatigue was relieve
Remember the boat rides on Ganga Mayee
As the villagers called Hari Bol
Remember how nice it was to walk
With devotees young and old
Keep your mind fixed and enthused you'll become
To return to your Prabhudatta desh
Taking the dust of the dham on your head
Get ready to begin this year's preaching a fresh
VRAJA MANDALA PARIKRAMA
H.H. Hanumat Presaka Swami
There's a river in Vraja flowing on a circular course
   It appears during Kartik what is the source?
Its color is generally saffron and white
   But with bright floating flowers it's a wonderful sight
Splashing on thorns, asphalt and rocks
   Sometimes discord and illusion enter the talks
But pure Hari-kirtan, japa and khols
   Are the predominant sounds from its purified souls
Like the flowers, Yamuna, hills and tall trees
   It's an ornament on the Vraja that Sri Radha sees
Parikrama is for yogis
  Maybe tough for bhogis
Rise at one your japa's done
   Then it's kirtan and bhajan in the sun
To change our heart like carbon black
   And hard as the rocks on a donkey's back
We go on parikrama with Prabhupada
   And step-by-step approach the Kingdom of God
THE TREASURE OF VRAJA
Ambika dasi
In sacred places we have stayed,
To many deities we have prayed.
To many temples we have been,
The beauty of Braj we have seen.
Our feet have walked on many roads,
Our shoulders carried many loads.
Sometimes weary, sometimes sprightly,
Chanting loudly or praying quietly.
Prayer for us pilgrims was a must,
As we proceeded through the dust.
We prayed to the sacred trees,
To the kunds and holy deities.
Many times our feet were sore,
With blisters, prickles, thorns and more.
Where to pass was our biggest fear,
Without someone coming near.
Mad gunman woke us all each day,
'Jago Prabhu" was what he'd say.
Then in the night his whistle blew,
Breaking our sleep the whole night through.
Each morning we'd need to be bold,
To get up and go out in the cold.
Taking bath in your clothes can be fun,
But not in the Winter before the sun.
The managers were great: experience talks,
They allowed us to just enjoy the walks.
The doctor plugged us up at both ends,
He pulls the thorns and jabs and mends.
The kirtana party was very fit,
You had to run fast to catch up with it.
The classes nourished our thirsty ears,
Krishna's purchased by one who hears.
We can't forget the mobile shop,
That stocked us up at every stop.
Upananda was always gracious,
To say we lacked was fallacious.
We slept together, mat to mat,
But no one cared or worried for that.
For after walking through the day,
We'd fall asleep wherever we lay.
Prasad we'd sit together and take,
It provided us with a welcome break.
Always enough and always well cooked,
Plus the sick were not overlooked.
The association was the best,
Everyone aware of Krishna's test.
We all had to stay on our toes,
(A little maya, and everyone knows!)
The river Yamuna was so nice,
We bathed in her waters twice or thrice.
We nearly paid a heavy toll,
When she almost snatched way one soul.
In conclusion I wish to say,
That this month was spent in the worthiest way.
Great benefit all of us have gained,
Much mercy on each soul was rained.
The realisations that we've gained,
Throughout the year will be retained.
We'll digest the experience over time,
And it will deepen to something sublime.
O holiest of Dhams, you hold such treasure,
Krishna brought you here for His pleasure.
Your presence purifies this whole earth,
Allow me your darshan in every birth.
WORDS WRITTEN WHILE WALKING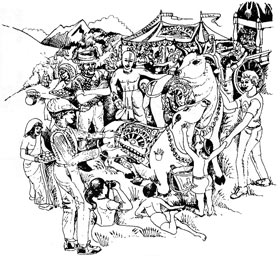 Ekalavya Dasa
The Lord's name on my tongue,
The Lord's dust, the holy dham,
            Underneath my feet.
            So tasty, so sublime.
            A welcome cleansing
       Of the innermost recesses
                Of my mind.
I pray to always keep this memory
            Within my heart,
            So that the Lord
                   And I,
Will never part.
    Lord Sri Krishna Caitanya
Along with Lord Nityananda Prabhu
            Walked the same trail,
            As you and I do.
       Now! O brother, O bai!
      Chant and dance in ecstasy
And in love, call out the names of
              Gaura Nitai!
              Gauranga!
              Nityananda! 
             Gauranga!
             Nityanana!
             Gauranga!
             Nityananda!
Together we chant the holy names-
            Hare Krishna
            Hare Krishna
        Krishna Krishna
            Hare Hare
            Hare Rama
            Hare Rama
           Rama Rama
           Hare Hare
               A pulsing multitude
Together with mrdanga and karatalas,
            A dozen conchshells blow.
            O Parikrama, O Parikrama,
        Why does thou ever end?
            I pray with all my heart,
       With the dust upon my brow,
O holy dhama, O my Lord supremely
                        Kind,
Please let these memories of Your
                      Glories
Continuously, constantly, and eternally
            Cleanse my mind.
    The morning sun has risen
As the Parikrama marches on.
  The kirtan and conchshells
          Break the silences
Of the morning stillness ecstasy.
            The birds chirp
            And devotees
            Surround me
   Murmuring their japa.
The Bengalis chant their bhajans
              In praise
     Of Mother Saci's son.
            The day begins.
The walkers are fresh and euphoric,
    Looking towards the final day
   Of this year's Parikrama trail.
            "Are you satisfied
            With just one week?"
Lokanath Maharaja has asked.
                    "No"
         Is the obvious reply.
    Nitya lila is what we want,
           What we crave.
There is an important awakening,
               Yearning
              In the heart.
            To take part,
            Forever,
    In Lord Caitanya's Sky.    
PADAYATRA, THE HUNDRED COUNTRY VRATA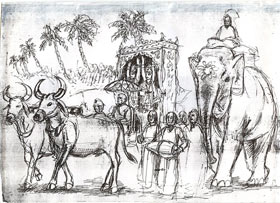 by Gaurangi dasi
Padayatra Worldwide, born in Bharata Varsa,
Lokanath Swami, chosen by Prabhupada.
First walk from Vrindavan to Mayapur
On the bewildered souls they made the blessings  pour.
Eighty four to eighty six, honouring the advent
Of Lord Gauranga, and around India they went.
Ten more years for Srila Prabhupada's Centennial
Jaya Vijay, strong leader and a servant menial.
Around and around Mauritius island they went,
Through hundred villages the bullock cart they sent.
Five times in Guyana they held padayatra,
With the many members of the nama-hatta.
From San Francisco to the border, Tijuana,
East Coast walk to save temples in America.
Received with awe and love in pious Mexico,
Muchachos chanting and leaping with great gusto.
Trekking boldly on rough jungle roads in Belize,
Extreme heat, biting gnats, many austerities.
In war-torn Ireland they started from Belfast
A pilgrimage for peace, hoping they make it last.
Taking part in the holy walk to Assissi,
Many padayatras took place in Italy.
In New Zealand they were welcomed by the mayors,
Yasodadulal and team,  fired-up preachers.
Trinidad's Hindu temples giving funds, bhoga,
Joyous  bhaktas pulling a beautiful ratha.
Lots of  walks in England, carnivals, prasadam,
Startling media coverage, and dear Parasuram.
Hundred and eight devotees from fifteen countries
To change consciousness in Holland's towns and cities.
Belgium: sunny weather, devotees were singing,
A common pastime there was camping and swimming.
Renewing their image in crazy anti-cult France,
For three months Krishna and His teachings got a chance.
Malaysia, the first walk in a Muslim country,
Campaigning against drugs, number one enemy.
The best preaching ever in friendly Philippines,
Three hundred guests per night was hardly ever seen.
Firm steps towards peace in the island of Fiji,
Two hundred devotees from the community.
A unique, old English-style cart for Australia,
Evening programs, vision of Krishna and India.
Plagued with difficulties in hot Guatemala,
With the worse roads in all Central America.
Krishna Vilasini and her spouse Saunaka
Brought the name to El Salvador and Panama.
One full month in Nepal starting from Lumbini,
Party organised by Maha Visnu Swami.
Overloading the cart with donations in Spain
Arriving just in time for the Olympic Game.
Two weeks in Honduras, lead by bold  Saunaka,
Spreading out the mercy to please Lord Gauranga.
Land mines and robbers, and still active guerillas,
Volcano and tidal wave in Nicaragua.
In Switzerland going around the ISKCON farm,
To the local bicycle race adding lots of charm.
In Vancouver starting a unique formula,
Bhaktimarga Swami crossing alone Canada.
      The first walk in Russia with fun Parasuram,,
      Ekanath and his team further pushed harinam.
     Slow pace and  limping bullock in Costa Rica,
     Five miles a day, long uphill roads, Alleluia!
     Sri Jayadeva jumped on the wagon in Sweden,
     Local kids with Rupa the ox had so much fun.
     Indra sent some heavy rains in Czech Republic,
     And strong winds also, bhaktas truly  heroic.
     Little scared of fanatic Orthodox in Greece,
     Received with enthusiasm, the walk went in peace.
     Intense book distribution in Macedonia,
     Got a gentle horse in former Yugoslavia.
     Uncle Parasuram made it to Estonia,
     Introduced also this preaching tool in Latvia.
     Near the Baltic Sea they entered Lithuania,
     Conquering new countries had become his mania.
     They went to Luxembourg from neighbouring countries,
     Ekachakragram and a group of devotees.
    Parasuram and team, a few days in Georgia,
    Ekanath also, with Padayatra Asia.
    Brazil: walking against hunger and violence.
    Four more walks on the road to give more souls a chance.
    "Unity in diversity" for Germany,
    With the ever-smiling Sacinandan Swami.
    Tremendously successful walk in Croatia,
    Purujit das helping Europe's Padayatra.
    Theme of eco-caravan in small Slovenia
    Great articles and interviews in the media.
    Local book distributors joining in Serbia,
    Atmabhu, Ekanath teamed up for the yajna.
    Shyama Gauri dasi, a help in Hungary,
    Vaishnavi assisting austere padayatris.
    In Slovakia it was the turn of Raja Ram
    To join the travelling group pushing harinam.
    Wheeling a cute little cart in South Africa,
    The mayor of Durban launched the Padayatra.
    Taking advantage of the short Finnish summer,
    Parasuram moved North to spread the sweet nectar.
    Austria knew only waltzes until they came,
    With the Swami's step, bhaktas reached the hall of fame.
    Once attacked by a crowd of fanatic Muslims,
    Bangladesh a challenge, but many people came.
    Hospitality at Christian monasteries,
    Portugal, a piece of cake, a bowl of cherries.
   Received by the mayors of the towns in Poland,
   With Subhadra dasi lending a needed hand.
   Laksmisurya dasi, many gurukulis,
   Twelve day walk in Denmark with peaceful devotees.
   No way Padayatra would not take place in Norway,
   Sri Jayadeva and Parasuram found the way.
   No bullocks for this icy land covered with snow,
   A peace march in Iceland was a heart warming show.
   To Papua, New Guinea, they came from Australia,
   Ramai Swami chanting, singing during the yajna.
   The Aussie team took the first sankirtan party
   To the Solomon Islands, making folks happy.
   Next in the South Pacific Ocean, Vuanatu,
   The fired up swami found it blissful to do.
   Gifted with fruits, milk, yoghurt and cheese in Ukraine,
   After lots of trouble their visas to obtain.
   Travelling through poverty-stricken Moldavia,
   No good water, but cholera, malaria.
   Parasuram made it to the Cyprus Island
   In the Mediterranean with a small band.
   Then to Israel with Isvara Krishna das,
   In the land of Jesus, with sweet fruits for the bhaktas.
   Looking often behind, hoping not to get shot,
   Bravely they went to Lebanon, what a great lot!
   The very day Palestine became a country
   They entered with a roaring harinam party.
   Into Egypt, walking in the Sinai region,
   Bringing the holy names to another nation.
   One lone Devarishi das in saffron dhoti
   Crossed Monaco in one day with the names of Hari.
   Threatened by rogues and surrounded by mafia,
   Shelter denied, permits refused in Bulgaria.
   Welcomed by the people and local nama-hatta,
   TV and newspaper reports in Romania.
   Escorted by the police in a tense Ghana,
   Harinam and prasad in wild Africa.
   Hundred devotees converging in Pakistan,
   Two days with bullock cart and public sankirtan.
   Traversing Belorus on their way to Moscow,
   T'was the seventh leg of Europe's Padayatra.
   Parasuram again in Malta, Tunisia,
   San Marino near Italy, and Andora.
   Jayananda das, from Tokyo to Osaka,
   Lead the walk in Japan to please Prabhupada.
   Arjuna dasa and the Germans through Liechenstein,
   Africans in Zimbabwe, dancing was so fine.
   Rajarshi das helped by Mandakini dasi
   To Saint Vincent brought Lord Gaurasundar's mercy.
   With four others they formed the Caribbean team,
   Santa Lucia, then Grenada, they went full steam.
   Distributing books in the Surinam's jails,
   Sixty devotees strong, and preaching never fails.
   Twelve Padayatra Europe devotees, plus van,
   Walked in seven countries,  starting with Kazakstan.
   Kazakstan, Kurgizstan, and then Uzbekistan,
   Tadjikistan, Turkmenistan, Azerbaijan.
   Kenya, Uganda, Tanzania and Botswana,
   Zambia and Malawi, bliss in East Africa.
   Kingston and the nice Governor in Jamaica,
   Who helped Saunaka, he had met Prabhupada.
   To Saint Martin they took Nitai Gaurasundar,
   Just a two men party, him and Vitthalesvar.
   Long walk for peace took off in Lagos, Nigeria,
   In ninety six, a Centennial Padayatra.
 Tight security in Benin, bliss in Togo,
 Rupa Raghunath in Argentina, bolo!
Saunaka and friends in communist Cuba,
Creating much interest and a few bhaktas.
No way to stop it, Padayatra is forever,
Devotees continued, the sankirtan fever!
NO BELFAST BLUES
On the street an armored car patrol is passing by
As devotees raise their palms to the sky
We see political graffiti smeared on the wall
But the devotees just call out  haribol haribol
A young soldier boy has us in his rifle sights
But our harinam just reaches new heights
Out here they play a deadly game
You could say it's a crying shame
But the harinam in Belfast has just made a historic mile
And we turn to see the soldier smile
Yes, out here they play a deadly game
And we praise the Lord
For at least they will hear the holy name.
Copyright © 2006 - 2022 ISKCON Padayatra. All rights reserved.